Mumbai schools teach students robotics and entrepreneurship
Updated on Oct 03, 2017 03:48 PM IST
Weekly session in mechatronics at Mount Litera School International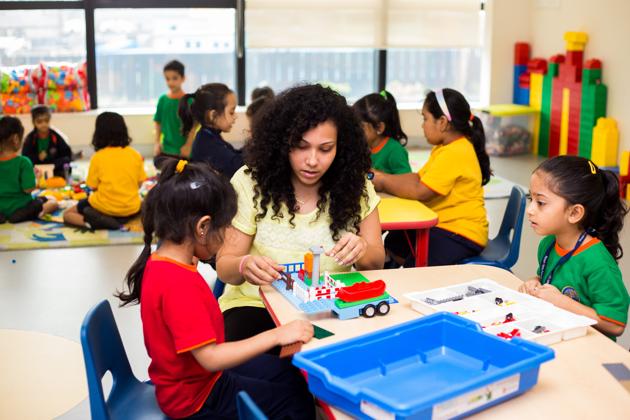 Children as young as 8 are dabbling in entrepreneurship, teens are tackling design and marketing, groups of kids are taking up robotics — all during school hours.
At Mount Litera School International (MLSI) in Bandra-Kurla Complex, kids attend weekly sessions in robotics and design from Class 1. The sessions are compulsory and have credits.
Bombay Scottish in Mahim has voluntary weekly workshops on debate skills from Class 7, and projects that encourage students to research and discuss international current affairs, with a view to helping their students prepare for the various inter-school competitions and annual Model United Nations conclave.
From the age of 11 you can learn to design a business plan, learn marketing and pitch the startup idea through Young Entrepreneurs Academy (YEA!) that hosts entrepreneurship programmes at schools such as Cathedral & John Connon in Fort and American School of Bombay in Bandra-Kurla Complex.
"Over the past couple of years, many Mumbai schools have been evolving with evolving curricula. Boards old and new have realised that there is an additional need for discussion, education and interactive sessions in subjects such as finance management, critical thinking and problem-solving, economics, technology," says Fatima Agarkar, co-founder of educational consultancy KA Associates. "Schools want to leave no stone unturned in preparing kids to study abroad or run successful enterprises here. College is too late to start from scratch."
At MLSI, the robotics and mechatronic design classes help hone motor skills. "In a weekly compulsory class, we start by teaching them to make beams and angles, and then moving to designing simple furniture," says school head David Udry.
At Garodia International Centre for Learning Mumbai (GICLM) in Ghatkopar, it's entrepreneurship that begins early.
"In primary school, we hold small marketplaces where children sell food and beverages. This is taken forward as a weekly programme called EnLearning, from Class 7," says Ian Davies, head of the school. "The EnLearning programme has credits and teaches things like cost-benefit analysis, marketing, product design and team-building. In primary school, children are at the age where they can grasp things faster. It is the right time to start inculcating skills such as team-building and problem-solving."
A FIRM FOUNDATION
Faiz Noorani is only 18 and he's already participated in a shark tank session.
"I had an idea for a product that could connect your mobile phone to your spectacles, like Google Glass," says Noorani, a Class 12 student at Cathedral & John Connon School in Fort. "So I signed up for this entrepreneurship workshop at my school in September and pitched the idea."
He learnt about the possible problems he could face, the audience he would be catering to and how he can pitch better to investors. He is planning to take the idea further after graduation.
At the school's annual career day, entrepreneurship was the topic most signed up for.
"We invited entrepreneurs from the city to assess the students' ideas, teach them how to pitch formally to investors and how to draft a business plan," says Sudarshana Shukla, guidance counsellor and head of the school's Learning Resource Centre, which organises the career day. "We teach them at school regularly that it is ok to take risks; we invite successful entrepreneurs to class to share their journey, talk about the challenges they faced and the failures they met with before success."
Cathedral is also one of the schools that participate in the Young Entrepreneurs Academy (YEA!) 20-weekend programme in which students from schools across the city send in students who wish to ideate within a team or hone their idea.
"YEA is a co-curricular programme for students from Classes 5 to 12," says Namita Thapar, CEO of Incredible Ventures, the Indian franchisee for the US-based YEA! "You learn to develop a business idea, write up a business plan, conduct market research, pitch your plan to a panel of investors, and actually launch and run your own real company and/or social movement."
Kids are more than willing to learn about startup culture and business, says Sudha Rakesh, head of the Humanities department at Oberoi International School, Goregaon.
"From Class 5, we teach them the skills you need to kickstart your startup idea and to run a business successfully. We bring experts from the industry into the classroom to do that."
Often, these experts are parents who are successful businessmen. The school also hosts an Entrepreneur Day every year.
"Students of Class 11 form groups of four or five, each elects a chairperson and a name for their company, designs a product and a marketing strategy with the help of a teacher, and sells it on Entrepreneur Day," says Swara Lodha, 17, a Class 12 student.
"We sell paintings we have done, or food and beverages. We handle our own inventory and decide what discounts to offer. We learn to keep prices competitive and yet make sure we have a margin."
YOUNG DIPLOMATS
Many schools are also taking the Model United Nations more seriously.
"Research has become an important part of the process, which is now very student-driven," says Vishnu Sharma, head of secondary school at MLSI. "Topics are narrowed down to specific issues concerning specific countries, such as the connection between agriculture and gross domestic product in the case of India or India's relationship with Israel. Students are aiming to learn about international affairs in-depth through MUN."
At Bombay Scottish, Mahim, the MUN club meets every week to discuss international affairs; no teachers are involved.
Students from Class 7 through 12 research topics of international interest, discuss and debate them. "We teachers get involved only when they need help in administrative issues. Debates are moderated by senior students," says Shefali Krishna, a teacher of sociology and English at Bombay Scottish. "The MUN club also organises an intra-school MUN so that many students get to participate and decide what inter-school competitions they want to participate in. Intra-school MUN aims to give every student a chance to participate and develop the skills of speaking up, networking and researching on issues. After all, not everybody can go to the inter-school competitions."
Hushrav Buhariwalla, 14, a Class 8 student at Campion School, Fort, is a regular, having participated in five inter-school and international MUNs.
"At our MUN club in school, we were trained by senior students with MUN experience," he says.
The team participated in the Harvard MUN held at Hyderabad this year and won the award for most outstanding delegation. "We are encouraged to have an analytical approach to issues and voice our opinion after research," Buhariwalla says.
Rooting for STEM
Back at MLSI, students learn to make furniture in Class 1, then move to simple machines and then to creating moving objects like a vacuum cleaner. "There are inter-class competitions every week, starting from Class 4. Students start with making beams and cartwheels and move to making prototypes for robot arms and vacuum cleaners," says David Udry, head of MLSI.
At Cathedral & John Connon in Fort, robotics is so popular with students that the school is hosting its first-ever inter-school robotics competition in November.
"Our students have participated in several competitions in the country; they wanted to organise one now," says principal Meera Isaacs. "The event will see around 70 participants from schools across the city. It is organised entirely by students, under supervision from teachers."
Automobile design is a regular workshop at Billabong High International School, Santacruz. "It is not a complex workshop but a series of brainstorming sessions through which students from Classes 7 through 10 experience a diverse form of solving problems such as pollution by vehicles," says principal Kusum Kanwar. "Students come up with ideas for conserving fuel, making futuristic designs under the leadership of faculty from Indian School of Design and Innovation (ISDI) and former students who are automobile engineers. The students who show a strong inclination to the subject are further trained and counselled about institutes where they can pursue this passion."
'Entrepreneurship courses expose kids to failure at early age'
Namita Thapar, CEO of Incredible Ventures, the Indian franchise of YEA! USA says it is important to introduce children to entrepreneurship at an early life.
YEA! conducts 20-weekend programmes in entrepreneurship for 11- to 18-year-old students every year, complete with investor panels and a chance to get real funding by the end. Namita Thapar, who brought the idea to India, is a chartered accountant with an MBA from Duke University's Fuqua School of Business.
Excerpts from an interview:
At what age should children begin learning entrepreneurship and why is it necessary to teach it in schools?
I believe children should develop an entrepreneurial attitude early in life. Teaching entrepreneurship early ensures children learn critical thinking, communication and collaboration skills. In addition, they develop the ability to identify problems around them and think through logical and relevant solutions to these problems. Most importantly, entrepreneurship courses expose our children to 'failure' through case studies and talks by various entrepreneurs which in turn make them comfortable with 'risk' and 'failure' which unfortunately are still taboo in India. These 'life skills' are very important whether they eventually choose to be an entrepreneur or take up a corporate job.
What is the role of schools in teaching students the skills needed to become an entrepreneur?
Students spend a majority of their time at schools and school teachers have a huge influence on them. Schools need to ensure their students graduate 'innovation-ready'. If they cannot incorporate entrepreneurship courses in their curriculum, they can partner with associations that can help them provide the courses in co-curriculum. Niti Aayog has initiated the Mentor India campaign to guide young innovators. Several economies and schools around the world are making this a priority.
What are the personality traits or skills you think mark a potential entrepreneur?
Generally, students who are excited about the field trips and good at and deeply interested in research, students who ask a lot of questions… they could be said to have a good chance at becoming successful entrepreneurs. In our workshops with youngsters, we look for traits such as an eye for problems, and a passion for solving them — even if that means showing up and working every weekend despite a hectic week at school; becoming obsessed with an idea. These mark out the student as a potential new-age businessman.
What are we getting right and what do we still need to do when it comes to teaching entrepreneurship?
Very few schools have formal entrepreneurship courses. Most Indian schools still focus on academic achievements, sports and art. However, there is an increasing trend to celebrate each kid's uniqueness more than before, which is encouraging. There need to be more team-based projects and children need to have an environment where they can explore freely and be comfortable with failure, as long as they have tried their best. Efforts and not always the end result should be judged and celebrated.