Mumbai stampede: Rumours of short circuit, bridge collapse created panic
Updated on Sep 30, 2017 08:04 AM IST
Twenty-two people were killed and 35 others were injured after a stampede broke out on a crowded pedestrian bridge connecting two stations in Mumbai on Friday, one of the worst tragedies to hit the city's teeming local train network.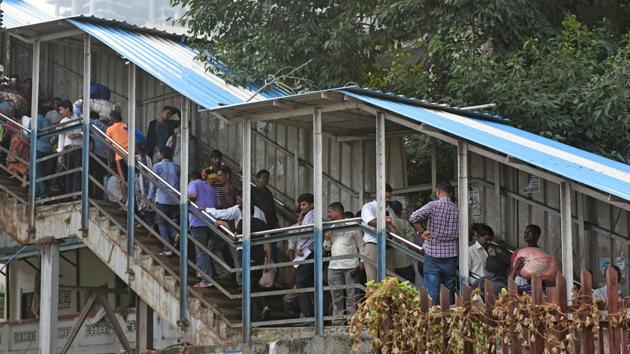 Hindustan Times, Mumbai |
Eeshanpriya MS
Every day, at least one lakh commuters take the Elphinstone Road foot overbridge (FOB) and Friday was no different, which begs the question — how did a daily occurrence escalate into a stampede?
According to survivors of the tragedy, commuters were stuck on the overcrowded bridge for almost an hour amid heavy rain and the crowd was moving at snail's pace. Sujay Panse, who managed to get off the bridge before the mishap, said: "The stampede situation started around 10.30am. The bridge is so narrow and it was overcrowded from about 9.45am. No policemen came to regulate the queues, despite the presence of CCTVs."
Two rumours began circulating, which most likely caused commuters to panic, survivors said. One rumour, a survivor said, was of a short circuit. But another eyewitness said some commuters were in a hurry to get off the bridge and jokingly said it would collapse because of the burden on it, which led to panic.
The Western Railway (WR) seemed to confirm this.
Ravinder Bhakar, WR spokesperson, said: "During an inquiry, railways found out there was a rumour of a bridge collapse, which created panic. We will investigate to find out who started it and appropriate action will be taken against the person."
Survivor Aakash Kotecha said, "I was on the staircase near the foot of the bridge at 10.30am and there was a lot of rush. Some people from the crowd felt suffocated, and others were pushing those around them. The people around me panicked only when a man rushed to us telling us to get off quickly. He said three people have died in this stampede on the other side of the staircase."
Kotecha said this scared people and a woman carrying a bundle of flowers dropped it, and tripped on it. That's when everyone behind her began to slip and fall.
Aarti Kirte, who was stuck on the Parel side of the FOB, said people stuck on the staircase were injured because they fell on the stairs and were trampled upon. She said, "It was easier for men, because they climbed the railing and jumped off the bridge, but women got stuck and fell. Even I felt suffocated."
Kirte commutes from Elphinstone station daily. "This bridge is always crowded because it is so narrow. There are rarely any policemen. On Friday, the crowd was larger than usual and the floor was wet from the rain, so it was obvious people would slip."
Gajanan Vijay, who lives nearby, said, "I was standing on the side, and I saw many people sticking their heads out from the railing, or jumping off it. Those who jumped off survived, and even helped in rescue work."
Deepak Naik, who also witnessed the stampede, said: "I heard one man on the staircase shouting he could not breathe. He pushed those ahead of him in a bid to escape, but they all fell. "
According to survivors, it took quite some time for police to control the situation. Eyewitnesses said it was commuters and people from nearby areas who helped the victims immediately.