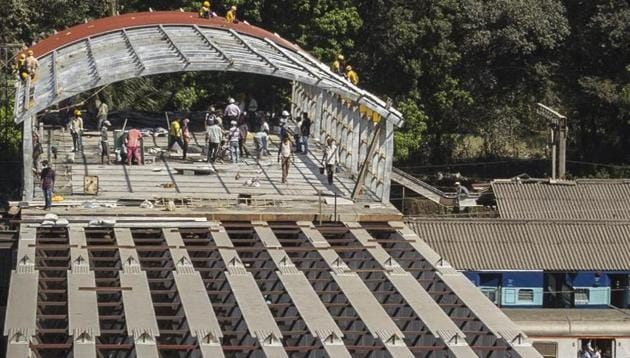 Mumbai station infra: Stampede ends revamp neglect
Authorities finally shift focus from beautifying suburban stations to providing commuters with foot over-bridges and widening existing ones
Hindustan Times | By Kailash Korde and Aroosa Ahmed
, Mumbai
UPDATED ON MAY 04, 2018 10:37 AM IST
In the past couple of decades, Mumbai has grown vertically and horizontally; newer business districts have come up and the way people travel has changed too. While vehicular population has witnessed a considerable increase, the number of people taking local trains has also gone up. But the 115 suburban railway stations, which require an overhaul to meet the demands of increasing commuters, have not undergone any changes.
With around 80 lakh people using the local trains every day, several stations on the suburban network now witness overcrowding as against only a few major stations a few decades ago. The commercial and residential development in certain pockets of the city has also turned stations such as Elphinstone Road, Parel, Lower Parel, and Currey Road, among others, into major hubs. However, the station infrastructure at most of these stations is still inadequate to handle the number of commuters using them. The Elphinstone Road station and Parel stations are now undergoing revamp after 23 people were killed in a stampede on September 29 last year. The mishap, which was the deadliest ever on the suburban railway network, made the railway administration sit up and take notice.
After the Elphinstone Road incident, railway authorities finally shifted their focus on improving station infrastructure – building new foot overbridges, widening existing ones, etc. Until then, station development meant beautifying ticket booking offices, providing water coolers, installing ticket vending machines, providing ATMs, and improving waiting rooms, among other such changes. And these revamps, too, were done only at major stations, while smaller stations would be ignored. After the stampede, the Railways not only began to upgrade infrastructure that would make commuting easier for citizens, but also removed illegal hawkers, stalls and other such obstructions that were hindering the movement of commuters.
Unfortunately, the railway administration has always acted only after outrage over mishaps. The exercise to increase heights of platforms was undertaken after the Monica More incident, in which the 16-year-old lost her hands after she fell in the gap between the train and platform at Ghatkopar station. Similar is the case with makeover of the Elphinstone Road and Parel stations. "Railways has not improved circulating area of any station where passengers facing maximum troubles. It is putting solar lamps and LEDs, beautifying booking windows or providing ATVMs. It is not doing what the passengers want, but only things that will bring revenue or savings," said Shailesh Goyal, passenger activist.
Most stations in Mumbai are not disabled-friendly. Physically-challenged passengers cannot access most stations without the help of co-passengers. Another major issue at station premises is of cleanliness. At several stations, the public toilets are unusable. Also trash generated at stations is thrown at the end of the platforms and burnt there.
Passenger activists point out that the passenger addressing system, too, is poor and there is no standardisation. On WR, passengers know the expected time of arrival of the local trains, but on the CR stations, the facility is not available.
In the past few years, railway authorities have begun installing escalators and lifts at railway stations, but activists says these are not properly maintained. "There are instances when the escalators stop midway and commuters have to walk. The elevators are in bad condition and not maintained at most stations. We have been raising the issue with railway authorities, but in vain," said Subhash Gupta, president, Rail Yatri Parishad.
The Railways have announced plans to develop some of the suburban stations, but they are yet to materialise. There was a plan to develop CSMT and Thane stations as 'World Class stations', having budget hotels, commercial complexes, but even after 10 years, nothing concrete has happened. The government, a couple of years ago, announced the commercial development of 400 stations across India. The list included CSMT and Thane stations apart from LTT, Dadar, Panvel, Kalyan, Mumbai Central, and Bandra, but the project is still in primary stages.
Under the second phase of MUTP-2, the railway authorities have improved certain stations – Dadar, Borivli, Kanjurmarg, and Thakurli, among others, but the changes have been limited to trespass control. Now, under MUTP-3A, Railways has proposed development of 19 stations at the cost of Rs947 crore. Under the plan, the Railways will build elevated decks to facilitate commuter movement, additional FOBs, elevators and escalators
"Interconnecting FOBs, elevated decks, escalators, development of station premises will be undertaken by us. The list of railway stations, which will undergo revamp, has not been finalised," said RS Khurana, chairman and managing director, Mumbai Rail Vikas Corporation (MRVC), the body which will work on development of the stations. The Indian Railways subsidiary – Indian Railway Station Development Corporation Limited (IRSDC) – will also be developing few stations on the suburban network.
The Metro stations on the Ghatkopar-Andheri-Versova line could act as a benchmark for the Railways. These stations are clean, have proper signage, controlled access system, ticketing facilities, good passenger addressing system, food and beverage stalls and other commercial stalls along with a lot of circulating area.
Even Cidco has developed stations in Navi Mumbai in the 1990s that are ideal for commuters. The stations are spacious, have ample parking space outside, there are proper entry and exit points and the stations are integrated with other modes of transport – with bus, auto and taxi stands on the station premises.
Passenger activists feel the Railways can learn from the Metro and Cidco authorities to make commute better for Mumbaiites too.
Close