Muslim body from Mumbai asks Centre to clear stand on Trump's Jerusalem move
Members of All India Muslim Majlis-e-Mushawarat say declaration of Jerusalem as Israel's captial violates Oslo Accords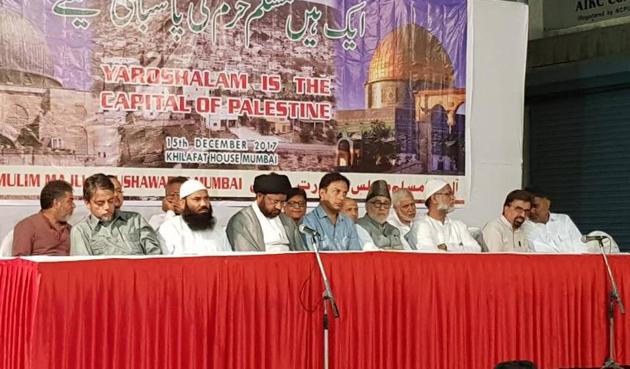 Updated on Dec 15, 2017 11:00 PM IST
Hindustan Times |
, Mumbai
Yesha Kotak
Asking the India government to clear its stand on the US President Donald Trump's recognition of Jerusalem as Israel's capital, the All India Muslim Majlis-e-Mushawarat (AIMMM) on Friday said it was opposing Trump's declaration.
"We are having an in-house meeting to discuss the issues concerning Jerusalem because it violates Oslo agreement," said SM Mallik, executive member, AIMMM (Mumbai).
The Oslo Accords is an agreement signed between the State of Israel and the Palestine Liberation Organisation (PLO) on September 13, 1993, at the White House. It was supposed to end the Israeli-Palestinian conflict over staking claim to Jerusalem.
Calling the Trump's decision 'unjustified and irresponsible', AIMIM said the US move violate previous peace efforts initiated on various international platforms.
"President Trump just destroyed every possibility of a two-state solution. It shattered decades of diplomacy and disrupted the Arab-Israeli peace talks. The 1967 borders must be respected and Jerusalem must remain the capital of Palestine," said Saeed Khan, vice president, ad hoc committee of AIMMM (Mumbai).
The members also asked the Indian government to clear its stand, like it did in case of Non-Aligned Movement — wherein India formed a bloc of nations who did not support either US or Russia — because the relations with Palestine dates back to pre-Independence era. AIMMM also extended its support to an online petition 'Jerusalem must remain the capital of Palestine', which has garnered more than 14 lakh votes so far.
"The government of India must take a note of it. The Indian policy has been in favour of Palestine since we believe in human rights and justice. It is time for the government to come forward and support the Palestinians and oppose the declaration made by Trump," Saeed said.
Ministry of External Affairs (MEA) spokesperson Raveesh Kumar had said that India's position on Palestine was "consistent and independent" and not determined by a third country.
This comes after Trump's declared that the US would officially recognise Jerusalem as Israel's capital and shift its embassy from Tel Aviv, while projecting it as a "long overdue recognition of reality".
Close Story
Personalise your news feed. Follow trending topics