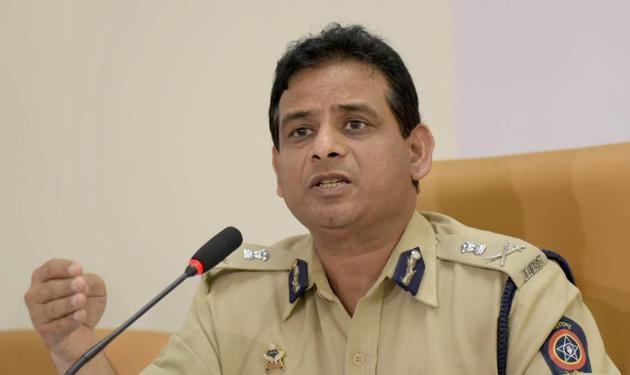 'Navi Mumbai police are ready to tackle any terror threat'
In an interview with Hindustan Times, police commissioner Hemant Nagrale speaks about the challenges faced by the force and the measures taken to curb crimes in the city
UPDATED ON APR 07, 2018 04:58 PM IST
When Hemant Nagrale took charge as the police commissioner of Navi Mumbai in May 2016, he stressed on promoting relations between the police and the public.
Today, he says the police- public partnership has evolved in a manner conducive to better policing. As the police force battles staff crunch and rising crime rates, it relies on advanced technology and explores innovative measures to tackle the situation.
The annual crime report, which was out in January, shows the areas the police need to improve. Nagrale talks about the measures taken to curb cybercrimes and crimes against women and the hurdles they face in detecting crimes.
Navi Mumbai is expanding rapidly in terms of population. With the construction of new airport and Mumbai transharbour link — that will reduce travel time between South Mumbai to the Island city — the population is expected to grow further. How ready are you to deal with it considering that you are facing staff crunch — nearly 5,000 cops for over 25 lakh population?
Urbanisation and industrialisation have increased the city's population. Important projects such as international airport, fourth terminal port at JNPT and Sewri-Nhava Sheva sealink have turned Navi Mumbai into a major business and residential hub.
Catering to a population of 25 lakhs has its own limitations. However, this has also encouraged us to explore innovative ideas, technology and measures to cope with the situation. We are stressing on man and resource management with optimum utilization of technology to achieve the desired results. Police-public partnership has also evolved in a conducive manner with community-oriented policing measures.
Coastal security has been the priority after 26/11 terror attacks in Mumbai. Navi Mumbai has the country's largest container port, the Jawaharlal Nehru Port Trust (JNPT) in Uran that is surrounded by more than 50 villages. In the past three to four years, law and order has become a major issue there. Are police ready to deal with cases of smuggling and terrorism?
The Navi Mumbai police are ready to tackle any terror threat. New initiatives and modern equipment will help us secure the city better. We have created specialised groups at police station level and set up Quick Response Teams (QRT).
Navi Mumbai police is also in active coordination with other central agencies. The government has notified Vashi, NRI, Uran, Nhava Sheva and Mora 3 in Navi Mumbai as coastal police station to maintain security up to five nautical miles.
Cybercrimes have increased over the years but the police have failed to improve the detection and conviction rate. According to the annual crime reports, a total of 72 cybercrimes were registered in 2017. Of this, only 26 were solved, which constitutes just 36% of the total crimes. In 2016, as many as 83 cases were registered and 57 of them were detected. It shows that the police solved almost 68% of the crimes. There is a noticeable decrease in detections. What are you doing to improve it?
The nature of cybercrimes is such that even if investigating agencies do all the right things and follow all the standard procedures, at times, they are difficult to crack.
For instance, since cybercrimes often extend beyond the boundaries of the country, obtaining court orders in multiple jurisdictions and following legal assistance treaties signed with other countries lead to cases remaining stagnant for months. Conviction happens when the investigating agency, the prosecution and judiciary come together.
Lack of technical skills and knowledge among most investigating officers is a stumbling block. The fact that forensic validation of evidence takes time adds to the problem.
Educating and empowering the public to stay safe in cyberspace are crucial. We are stepping up efforts to educate the public and boost awareness on cyber-safe practices. We are building a pool of skilled investigators having detective and technical skills and are continuously upgrading our cyberlab.
Crimes against women are also on the rise. In 2017, at least 196 molestation cases were registered as opposed to 189 in 2016. What measures are being taken to ensure their safety?
Safety of women, children and senior citizens has been our priority. There might be variation in registration of crimes but the priority remains high. We have a dedicated 24x7 helpline number, 103, besides 100.
We have two mobile patrol vans in the two zones with specific responsibility of ensuring safety and security of women. This is in addition to the routine beat marshals and police station patrol vans. Important locations are under electronic surveillance and are continuously monitored.
Have the high-resolution closed-circuit television (CCTV) cameras helped curb crimes and rash driving?
CCTV cameras have become an integral part in effective policing. They not only act as a deterrent but also provide vital clues and evidence to nail culprits. They have been helpful in crowd control and traffic management.
In 2017, around 35 offences were detected through CCTV cameras. In 2017, around 1,490 e-challans were sent to the traffic violators.
Close