NEET: Confusion persists on medical admissions, syllabus in Maharashtra
Feb 07, 2017 09:35 AM IST
Many parents from Maharashtra are planning to meet authorities from the Directorate of Medical Education & Research (DMER) this week for better clarity
The Central Board of Secondary Education's (CBSE) statement on the National Eligibility cum Entrance Test (NEET) has clarified many doubts for medical aspirants and their parents, but there is still ambiguity about admission rules for deemed universities in state, or the syllabus for NEET 2017.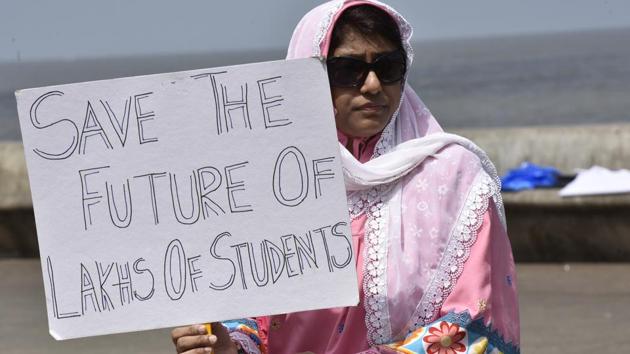 A group of parents from Maharashtra are planning to meet authorities from the Directorate of Medical Education & Research (DMER) this week for better clarity.
"In the last many years medical admissions had never given any weightage to class 12 marks, but recently the Supreme Court requested all higher education courses to consider that score as well as entrance exam scores. We are not sure if the rule is applicable this year," said one of the parents.
Earlier this month, the DMER had also released a statement saying that admission to all medical seats (except for 15% all-India quota) in government-run and private institutes will be conducted by DMER. However, there is no clarification about seats in deemed institutes. "We don't want to wait till the last minute for clarity. So hopefully the state government will release another statement soon," said a parent.
When HT contacted the DMER director, he said the matter of admissions to deemed institutes is still sub-judice, as the matter is still pending in Supreme Court. "Once we get a go ahead from SC, we will release a statement on that as well. As for weightage to class 12 marks, medical admission have given no weightage to class 12 marks since 1999, and we will continue the same rule in 2017. As for 2018, we can decide later," said Dr Pravin Shingare, director, DMER.
Parents have complained about other problems, including an unclear stand by CBSE on the portion applicable for NEET 2017. "The website says that the portion will include questions from CBSE as well as a common state board syllabus, but there is no such thing as a common state board syllabus. Each state has a different syllabus," said Sudha Shenoy, another parent. Many are hoping to hear form the CBSE soon for better clarity.
READ MORE
Medical entrance: NEET 2017 to be counted as first attempt, clarifies CBSE