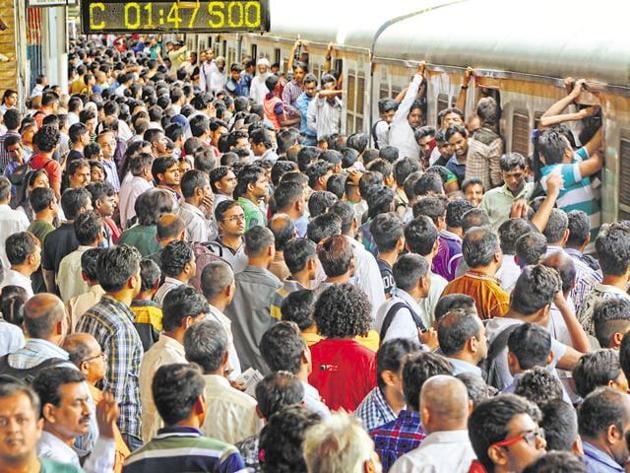 New projects to prevent crowding at suburban stations: central railway to Bombay high court
The projects include fast elevated corridors - including on harbour and the trans-harbour lines - for better connectivity across the city.
Hindustan Times | By Kanchan Chaudhari
, Mumbai
UPDATED ON APR 06, 2018 12:17 AM IST
Apart from the addition of 114 daily services, the Central Railway (CR) has lined up projects to resolve the problem of overcrowding in suburban trains on the central line, CR told the Bombay high court on Thursday.
The projects include fast elevated corridors on harbour and the trans-harbour lines, a new suburban corridor to connect Vasai-Virar directly to Panvel, and another new corridor to connect Panvel to Karjat.
According to an affidavit filed in the high court, CR has added 114 daily services at suburban stations on the central line. This includes 31 services each on the main line, connecting Chhatrapati Shivaji Maharaj Terminus (CSMT) to Karjat /Kasara, and the harbour line ,connecting CSMT to Panvel. The remaining 52 services have been introduced on the trans-harbour line connecting Thane to Navi Mumbai and Panvel.
In addition, CR has proposed to renovate 20 suburban stations and 210 air-conditioned rakes in its services, the affidavit states. The 210 new rakes will be procured and kept as rolling stock.
The affidavit has been filed in response to a public interest litigation (PIL) filed by city activist, Sameer Zaveri. The PIL raised concern regarding the safety of lakhs of people that commute by suburban trains every day.
Zaveri has highlighted the high mortality rates in railway accidents, owing to the lack of timely medical aid.
Though the number of fatalities and injuries on the central line has reduced over the last three years, the overall high number remains a cause for concern. According to the statistics supplied by central railway, in 2015, 1,775 persons died and 1,383 were injured in railway accidents.
In 2016, the number of fatalities and injuries came down to 1,554 and 1096, respectively. This further reduced to 1,513 and 1,055 last year – recording 7.3% reduction in 1205-16 and 6.1% reduction in 2016-17.
Western Railway has also filed affidavit in response to the PIL , stating that it has set up emergency medical rooms at 10 suburban stations between Churchgate and Virar and has also provided fully equipped ambulance service at 28 stations on the line.
Close