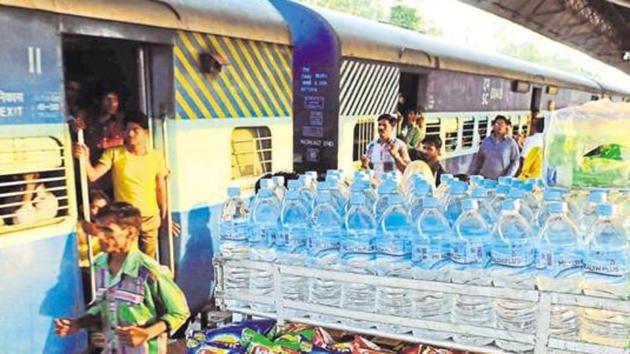 Plastic ban: Central Railway to use paper boxes, plates soon to serve food at Mumbai stations
The railways currently distribute pantry food in plastic containers on trains and sell products at stations in plastic packets
Hindustan Times | By Aroosa Ahmed
, Mumbai
UPDATED ON MAY 07, 2018 11:28 AM IST
Central Railway (CR) commuters may soon get eatables in paper plates, cups and cardboard boxes at stations.
In a high-level meeting on Friday, CR decided to completely stop purchase of plastic, a material banned by the Maharashtra government. Senior CR officials, railway catering staff, Indian Railway Catering Tourism Corporation (IRCTC) officials and railway station stall owners were present at the meeting.
"We have asked all stall owners and catering officials to stop getting plastic products. They need to finish the existing stock. We will gradually introduce paper plates, cups and cardboard boxes," said a senior CR official privy to the development.
The railways currently distribute pantry food in plastic containers on trains and sell products at stations in plastic packets.
CR will hold another meeting on May 10 to look for alternatives to plastic spoons that are served with meals on long-distance trains. "We have asked companies, manufacturers of paper products and cardboard boxes to attend the meet. Stall vendors and IRCTC officials, too, will be there. CR is likely to take a call on plastic cutlery served to passengers. The railways plan to come up with a dos and don'ts manual," said the official.
The state government issued the Maharashtra Plastic and Thermocol Products (Manufacture, Usage, Sale, Transport, Handling and Storage) Notification on March 23, banning manufacturing, use, storing, distribution, wholesale, retail sale, import and transportation of all kinds of plastic bags (with or without handle), single-use disposable items made of plastic and thermocol — dish, cups, plates, glasses, fork, bowls, forks, spoons, straw, containers, non-woven polypropylene bags, pouches to store liquid, plastic to wrap or store products and packaging of food items. It has also banned plastic and thermocol items used for decoration purpose.
Close