The pollution watchdog also asked manufacturers, retailers, shopkeepers and the general public to ensure a zero inventory of the single use plastic (SUP) items by June 30, 2022.

The prohibited plastic items include ear buds, flags, candy and ice-cream sticks, decorative thermocol, PVC banners less than 100 micron thick, stirrers, wrapping films, cups, glasses, and cutlery, among others.

About 1.1 billion single-use plates and 4.25 billion items of single-use cutlery, most of which are plastic, are used in Britain every year.

An Australian state on Monday became the first in the country to ban some single-used plastic items including drinking straws, stir sticks and cutlery.

In a satirical manner the 'store' displays cereal boxes and sushi roll boxes with the labels like 'Yucky Shards' and 'plastic bagacado roll'.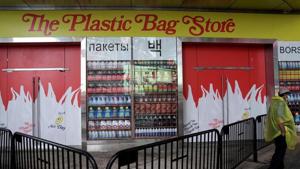 New York |
By
Reuters | Posted by: Srimoyee Chowdhury