Plastic ban: Shopkeepers, traders face action in Kalyan Dombivli, Ulhasnagar, Bhiwandi
KDMC collected a total fine of
₹
25,000 after taking action against 5 shopkeepers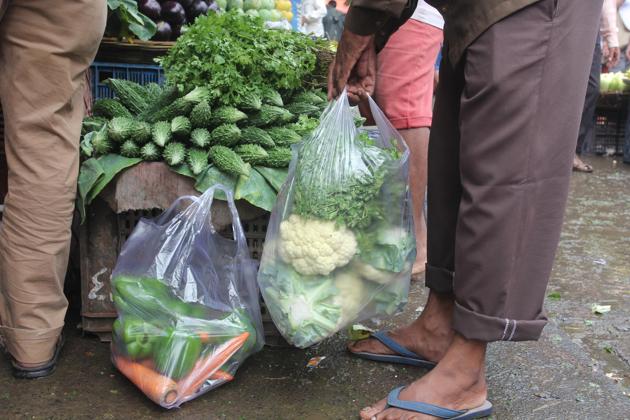 Published on Jun 24, 2018 01:21 AM IST
The plastic ban imposed by the Maharashtra state government forced several shopkeepers and residents to carry cloth and paper bags in Kalyan-Dombivli on Saturday. Some shopkeepers gave away cloth bags to the customers at a rent of ₹10 while some sold items without a bag.
"On the first day of the ban, we managed to take action against 5 shopkeepers who were caught using plastic bags. We levied a fine on them immediately," said Dhanaji Thoraskar, deputy commissioner, Kalyan Dombivli Municipal Corporation (KDMC).
The civic body collected a total fine of ₹25,000 after taking action against those 5 shopkeepers. The civic body has formed teams of 2-3 officials in all its wards to act against those using plastic bags. The team paid surprise visits in their respective wards and took immediate action against those found using plastic bags.
"Currently, we have formed teams at each ward. In order to eliminate the practice of fraud while imposing fines, we will have a special vehicle for the team of officials. The officials will visit the shops using this vehicle," said Thoraskar.
Earlier, several cases of fraud, where unknown person claiming to be civic officials, collected fine from the shopkeepers, were reported in Kalyan and Dombivli.
From Monday, the civic body will initiate stricter approach towards the violators in its jurisdiction.
Sandeep Mishra, who runs a hotel in Murbad road, Kalyan (West), said, "We have accepted the move of plastic ban, however, we have not yet figured out how to give away parcel food. We will stop the parcel service temporarily until we find an alternative."
Residents of Kalyan-Dombivli have also welcomed the move by using cloth bags and paper bags while buying anything from the market.
"I have decided to carry a container to buy fish or milk as it cannot be carried in a cloth or paper bag. We have formed a group to discuss the problems we face while purchasing anything and ways to tackle them," said Meena Shah, 35, a resident of Ramnagar, Dombivli.
In the nearby Ulhasnagar city, the Ulhasnagar Municipal Corporation (UMC) took action against 20 shopkeepers and collected a total fine of ₹1 lakh from the traders and shopkeepers, and also seized plastic bags from them.
"Our officials are continuously taking rounds across the city to nab those using plastic bags. This will continue on a daily basis now. Shopkeepers were found hiding stock of plastic bags, which we managed to seize," said an official of UMC.
In Bhiwandi, Batti naka vegetable market, around 5 vegetable sellers were fined ₹5000 each for giving away plastic bags to the customers.
Close Story
Personalise your news feed. Follow trending topics