Sena and BJP in BMC spar over pothole menace
Four months ahead of the 2017 civic elections, allies Shiv Sena and Bharatiya Janata Party (BJP) had a face-off in the Brihanmumbai Municipal Corporation (BMC) over Mumbai's biggest problem: potholes. BJP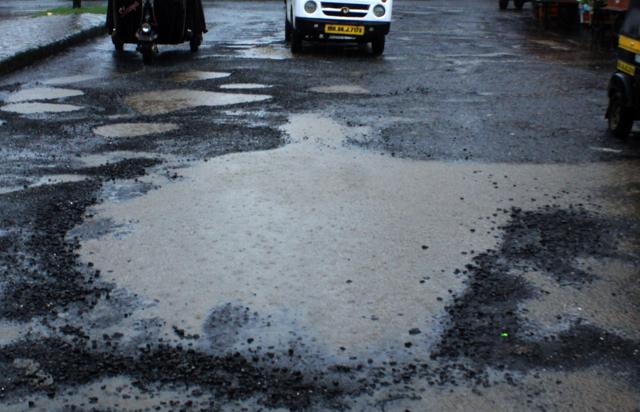 Published on Sep 28, 2016 11:56 PM IST
Four months ahead of the 2017 civic elections, allies Shiv Sena and Bharatiya Janata Party (BJP) had a face-off in the Brihanmumbai Municipal Corporation (BMC) over Mumbai's biggest problem: potholes. BJP walked out of Wednesday's standing committee meeting along with the opposition stating that Sena was supporting the administration despite its failures to provide good roads to the city.
During a heated discussion on the death of a 21-year-old Nagpada resident owing to a pothole, Sena leader Trushna Vishwasrao also mentioned that the city has been receiving unprecedented rainfall over the last few days resulting in a high number of craters, for which she faced flak from all parties.
However, Vishwasrao later said that Sena has been continuously following up with the civic body over fixing the craters. "Even today, I called officials to fix potholes at the Parel flyover. However, it seems like the civic chief was waiting for orders from the chief minister (CM) to fix the city roads," Vishwasrao said, in a jibe over Fadnavis' directives to all road agencies in the city to fill potholes on Tuesday.
BJP leaders immediately retorted saying CM Devendra Fadnavis had to intervene because BMC has failed in maintaining the city roads under Sena's leadership. Fadnavis on Tuesday asked BMC to fix all city roads in the next 15 days. The Sena-BJP fight comes even as both share power in the state as well as the civic body. Both the parties are equally responsible for the road mess but BJP has been trying to play the opposition role in the civic body in lieu of upcoming polls.
The genesis of the road scam as well as the desilting scam was with the BJP city chief Ashish Shelar making complaints to the CM, seeking state intervention
Manoj Kotak, BJP leader, said, "If civic chief was waiting for orders from the CM then was Sena waiting for the death of a young boy to take action? Today, in the meeting, we had a chance to seek answers from the administration for Mumbai's perennial problem but Sena is still supporting the administration."
The differences between the two allies have gone from bad to worse this year and with civic elections in February next year, more tussles are on cards. On Tuesday, the BJP-led state government had cleared a lease renewal policy for lands including Mahalaxmi Turf Club, putting a spanner on Sena's pet project to have a theme park here. Sena has also been constantly pointing at the state's interference in the civic body's affairs.
Close Story