These 125 vans will deliver fresh farm produce to Mumbaiites soon
Aug 16, 2017 02:23 PM IST
This will be in addition to the farmer-to-consumer markets launched in August last year
Taking note of the farmers' agitation for better prices, the state government may soon come up with ways to deliver their produce at Mumbaiites' doorstep.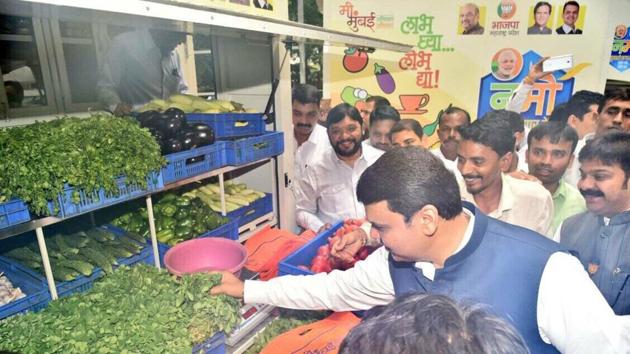 The state government plans to revive the Maharashtra Agro and Fruit Processing Corporation (MAFCO), a defunct public sector undertaking (PSU) that was formed to sell their produce. It is also looking at signing a memorandum of understanding with NGO Mee Mumbai Abhiyan-Abhiman, which runs Namo Yuva Rozgar Kendra, to deliver it in Mumbai.
The Namo Yuva Rozgar Kendra, a farmers' market on wheels which is a brainchild of BJP's Prasad Lad, was inaugurated in Mumbai on Tuesday. It will deploy 125 vans to deliver products from farm-to-home.
Currently, 10 such vehicles have been rolled out. The remaining 115 vehicles will be launched within a month.
This will be in addition to the farmer-to-consumer markets launched in August last year.
The state government had earlier decided to disinvest MAFCO, given the losses borne by it consistently. MAFCO had a network of 4,000 retailers and 18 distributors across the state to distribute farm produce, dairy products among others, but suffered losses owing to bad management practices.
Fadnavis said farmers needed more space to store vegetables and fruits.
The CM said MAFCO's revival will create jobs for the jobless, benefit farmers and consumers.
"Farmers never get good prices for their produce as they are not in direct contact with consumers. Consumers, on the other hand, don't get good quality vegetables at lower prices. This link will achieve both," the CM said.
Earlier, in June last year, the state government had allowed the farmers to sell their produce outside the Agriculture Produce Market Committee (APMC) markets, so they get more options.