These volunteers bring sweeping change to Mumbai's Carter Road, thanks to clean-up drive
Published on Jul 23, 2017 01:31 AM IST
Anya Rangaswami, a graphic designer who moved to Mumbai three years ago, kicked off the campaign on Facebook in May.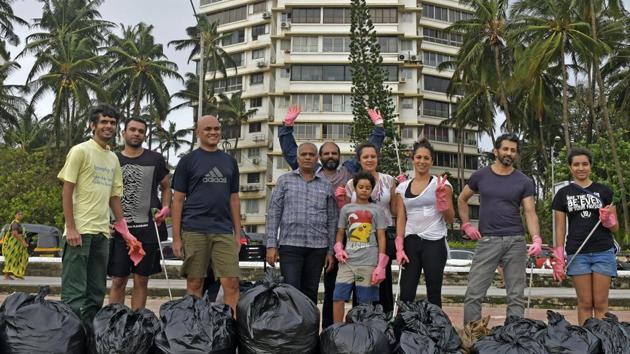 Hindustan Times |
, Mumbai
Geetanjali Gurlhosur
New to Mumbai, Anya Rangaswami was anguished after seeing Bandra's garbage-strewn Carter Road promenade. So, she started a Facebook page in May for a clean-up drive and gathered close to 40 like-minded people on June 4 — the first day of the campaign.
Since then, a diverse group of from all around the city and even Thane meet every weekend for two hours to clean Carter Road beach and promenade. The clean-up group, comprising 10 core members, sends one to two trucks of plastic to recycling units after each session.
The 28-year-old graphic designer from Pune moved to Bandra three years ago.
The youngest of the volunteers is 10-year-old Ayaan Thakkar, who arrives at the clean-up drive with his mother Neha Thakkar. "Ayaan's friends and my niece also come with us at times. The garbage we pick up is mostly plastic, clothes and fishing nets," said his mother.
"Community involvement is very important. This is not someone else's job. Since the promenade is under different governing bodies, it becomes difficult to get the work done," she added.
She approached the Bandra West Residents' Association (BWRA) and immediately got support from the association and the ward's assistant municipal commissioner, Sharad Ughade. "The BMC helped us with disposal of the garbage. They are currently taking it to recycling units," said Rangaswami.
Daryl D'monte of BWRA said, "The initiative was started by Anya. We are ready to support the group financially if they need it."
Apart from support, the group also receives gloves, boots and garbage grabbers as donations from its volunteers.
On challenges, Rangaswami said the terrain and the amount of trash coming in from the sea daily makes it harder. "It might take a year of work, but we will continue," she said.