TMC to start special schools in tribal villages to curb dropouts
Most children stop going to school as they have to travel long distance; NGOs to counsel students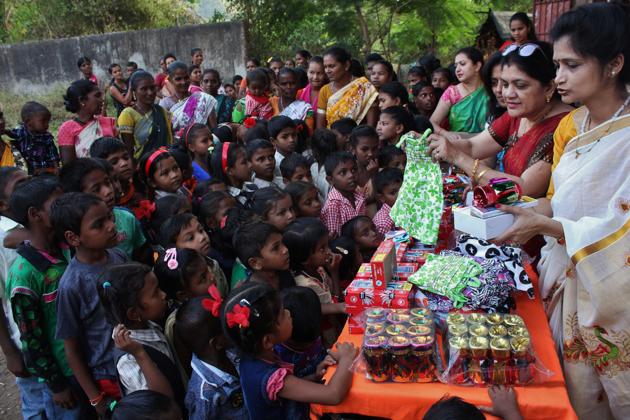 Published on Nov 11, 2018 12:36 AM IST
Hindustan Times | By Ankita G Menon
, Thane
Nine-year-old Aarti Dawle, a resident of Pachvadpada village in Thane, walks 3kms to her civic school every day. The distance does not seem to be too much of a problem for her but during the rainy season, a small nullah on her route starts overflowing and blocks her path.
This has made her and many of her classmates from her village miss a lot of classes or stop their education altogether, nearly 400 of them from neighbouring villages in fact.
To solve this problem, the Thane Municipal Corporation's (TMC) education department has decided to bring education to the children's doorsteps. The civic body plans to start section schools or bhagshalas— an extension of the nearest TMC school — for the benefit of students living in villages. Teachers will travel from the schools to these bhagshalas to make sure that students do not miss out on their classes.
According to TMC officials, empty spaces or suitable buildings will be identified for conducting classes. If there are none, large metal containers will be transported to act as classrooms.
Manjula Wagh, 51, a resident of Pachvadpada, said most of the children's parents work as farmers, auto drivers or find odd jobs for a living. "They find it difficult to drop or pick up their children at school a few kilometres away. That's why they stop their education altogether."
Vikas Repale, the TMC's education committee chairman said the civic body has tied up with local NGOs to help with keeping student enrolment numbers high. "The section schools will cater to the basic education pattern just like other civic schools," he said.
Manish Joshi, the TMC's deputy municipal commissioner, said this initiative was started with the objective of making sure children do not miss attending school. "It will make it easier for them to be regular in class and the number of dropouts will also decrease," he said.
Matruseva Foundation, the NGO working in tandem with TMC to establish these section schools has been counselling parents and trying to instil interest within their children to attend school. Sandhya Samant, one of its volunteers, said extra-curricular activities are conducted to encourage children to join. "We shall continue to conduct regular activities and ensure students visit the school daily," Samant said.
The civic body, in fact, has rented a spot for its first bhagshala in Pachvapada and is looking to start classes after the Diwali holidays are over. Its teachers will conduct classes for students between three and 15 years of age.
Out of 120 students at Pachvadpada, 15 have never been to school. Soon, TMC will start section schools at two other nearby villages — Patlipada and Koknipada.
Close Story