Maharashtra CM Devendra Fadnavis sings, sways in video about Mumbai's rivers
Feb 27, 2018 12:11 AM IST
Fadnavis and his wife Amruta can be seen swaying to a song that calls for support to save Mumbai's four rivers
In addition to politics, chief minister Devendra Fadnavis's talents lie in the field of dance too. In a video released by T-series two days ago, Fadnavis along with wife Amruta can be seen swaying to a song that calls for support to save four Mumbai rivers - Poisar, Dahisar, Oshiwara and Mithi.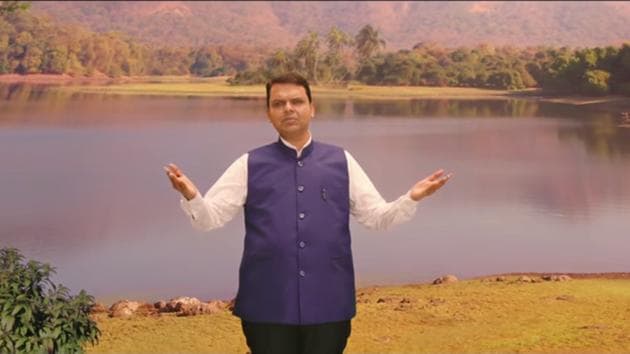 Named 'Mumbai river anthem', the song has been sung by Bollywood playback singer Sonu Nigam and Amruta Fadnavis. The video also features state finance and forest minister Sudhir Mungantiwar, Mumbai civic commissioner Ajoy Mehta, and Mumbai police commissioner Datta Padsalgikar.
Parts of the video have been shot at the chief minister's official bungalow, Varsha in Malabar Hill.
Jitendra Awhad, MLA, Nationalist Congress Party (NCP) took a jibe at Fadnavis, stating that it's a good thing that the chief minister is able to act as the film industry needs actors. "Most shocking and objectionable part of the video is the involvement of high-ranking officials. They have a reputation in their departments. Earlier, it was the talk of the town that the every officer dances to the tunes of the chief minister. Now we have seen it all," said Awhad.
The Aam Aadmi Party's (AAP) Maharashtra chapter criticised Fadnavis for featuring in the video. "It is shocking. The chief minister, the police commissioner and municipal commissioner are used as props to promote Amruta Fadnavis's singing career?" read a post on the AAP's Facebook page.
The Bharatiya Janata Party (BJP) responded by saying that the opposition is merely habituated to criticising the government. Madhav Bhandari, state BJP spokesperson said, "What is wrong with the video if it has a good message? It is an issue related to Mumbai, and the officials who are a part of the video are working on this issue. The opposition has gotten into the habit of interfering with and criticising everything."
Activists from the Save Aarey group also criticised Fadnavis for the video. "On the one hand, the chief minister is talking about saving rivers. On the other hand, he is allowing the destruction of trees in Aarey despite so many pleas from citizens," said Zoru Bhatena, an activist from the Save Aarey group.
The four rivers in question have, over the years, deteriorated owing to increasing pollution and urbanisation. As slums, industries, and cow sheds lined along the rivers dump toxic waste in the water body, none of the rivers reach the river unsullied.