WAYU is no good at Mumbai's traffic junctions
Hindustan Times |
, Mumbai
Badri Chatterjee and Akash Sakaria
Jan 12, 2017 11:42 PM IST
A week after outdoor air purifying units that go by the acronym WAYU were inaugurated by the state government to be set up at four locations in Mumbai, a visit to these sites revealed that none of the units were functioning, nobody was monitoring them and there was no unit at Ghatkopar — one of the designated sites
More than a week after the state government inaugurated an outdoor air purifying project, which involved setting up Wind Augmentation and Air Purifying Units (WAYU) at four junctions, HT found that no units had been installed at one of the designated sites in Ghatkopar. In addition, the units that were installed weren't working properly or being monitored.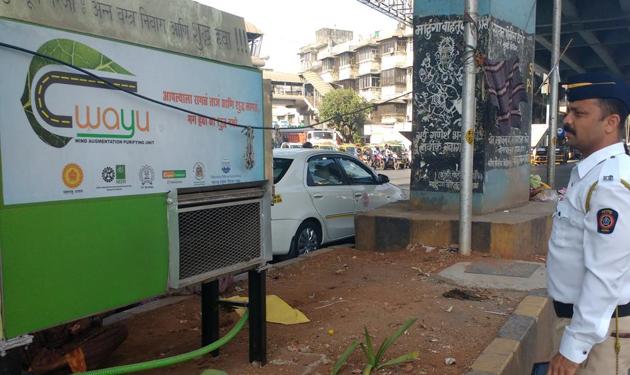 The project was inaugurated at Kala Nagar last Wednesday by Shiv Sena chief Uddhav Thackeray, his son Aditya and the Maharashtra Pollution Control Board (MPCB). According to a source in the state government, Rs1.5 crore was spent on acquiring and setting up units. However, officers from the Mumbai traffic police said there had been no significant improvement in air quality at any of these junctions so far.
Developed by the Indian Institute of Technology (IIT)-Bombay and the National Environmental Engineering Research Institute (NEERI) last year, WAYU works by converting pollutants such as dangerous PM2.5 and PM10 particles, carbon monoxide (CO) and volatile organic compounds (VOCs) into carbon dioxide using a filter. Its creators claim it can reduce pollution at busy traffic junctions by 40% to 60%.
Three units have been set up under the Sion flyover, three at Kala Nagar junction and one near Bhandup railway station. However, HT found that there was no unit near Shreyas junction in Ghatkopar, one of the four designated sites. One unit is under construction and will be installed near the Brihanmumbai Municipal Corporation (BMC) headquarters opposite CST. Each unit costs between Rs30,000 and Rs40,000.
Deepak Nikade, a traffic police constable at Ghatkopar, said, "We haven't come across any such machines within kilometres of the junction. We have not been told about any such machine or initiative to improve air quality."
B Mohite, a traffic constable and point guard at Kala Nagar junction, who is on duty there from 6am to 6pm every day, said, "The units were installed almost 20 days ago but we have seen them working only two or three times. We know that a unit is working when it starts vibrating and releases air from its ducts."
Meanwhile, the machine installed at Lal Bahadur Shastri Marg, Bhandup, is lying dormant. "It stopped working a few days after it was set up and hasn't worked since," said Prashant Shelar, a vendor who sits next to the machine.
A traffic constable posted under the Sion flyover said he had not seen any of the three units working. "We just saw people installing the units about three weeks ago. We have not been told what they are for," he said.
Rakesh Kumar, director of NEERI, said, "It is a continuous process that will clean the air over a period of time. We are in the testing phase and we are recording how much the amount of particulate matter and polluting gases is falling daily. Once we have the results we will make modifications."
Officials from the state pollution control board washed their hands of the matter. "The units are operated and maintained by NEERI and IIT-B as a pilot project. MPCB will look at the feasibility of such a project and whether it should be extended to other locations," said a senior MPCB official, who did not wish to be named.
What the state government has to say?
"We are aware about the issues being faced with these units. We are closely monitoring them and have already instructed the state pollution board to give us a report by the end of this month. A lot of money has been spent in acquiring the technology and maintaining it will cost much more. If the report is not satisfactory and benefits are not seen, we will be scrapping the project," said a senior official from the state environment department.
What you need to know about WAYU?
A 10-day pilot study in 2014 showed the device brought down pollution levels considerably.
For the study, one unit was set up near the main entrance of IIT-Bombay, Powai.
· PM2.5 levels dropped from above 100 micrograms per cubic metre (ug/m3) to as low as 40 ug/m3. The safety limit is 60 ug/m3.
· Similarly, PM10, which was more than 160ug/m3 as against the safe limit of 100ug/m3, dropped by half to 50ug/m3.
· According to Padalkar, a single instrument costs between Rs30,000 and Rs40,000 and the total project cost would approximately be Rs70 lakh, excluding cost of solar panels and specific designs required for different traffic junctions.
"The device has five ducts that suck in air, trap particulate matter and release clean air using the principle of dilution. However, for CO and VOCs, the air is heated inside the instrument and thermal oxidisers break down the pollutants at high temperatures into simpler forms like carbon dioxide (CO2)," said Vinayak Padalkar, IIT-B alumnus and the brain behind the instrument.
Read