Will Raj Thackeray's violent campaigns help revive the MNS in Mumbai?
Experts say playing the 'sons of the soil' card won't help the MNS as people are more concerned about development and jobs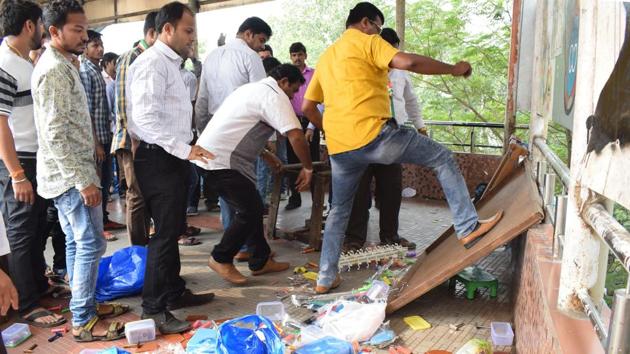 Updated on Dec 02, 2017 12:05 PM IST
Will Raj Thackeray's violent strategies to revive the Maharashtra Navnirman Sena (MNS) work this time, as they did a decade ago?
For past few weeks, the MNS has been making its presence felt through violent agitations against hawkers. However, the MNS' target base — the Marathi manoos — do not seem to be supportive of such acts. Analysts said the lack of constructive agenda means people aren't drawn to the party. In 2007, Thackeray spewed hatred against North Indians, blaming them for snatching the opportunities of locals. He was even arrested. Back then, this paid rich electoral dividends as he was able to get 13 members elected to the Maharashtra Assembly and 28 to the BMC.
"That was different era, socio-economic conditions were different. Now, Thackeray needs to devise a new strategy to revive the MNS or he will find himself irrelevant," said political commentator Surendre Jondhale. He said Thackeray was a new face promising change in 2007, which is why people gave him a chance. "The performance of his legislators and corporators was dismal. They hardly impacted the lives of Mumbaiites," he added.
Expert B Venkatesh Kumar said politics must be constructive. "People are worried about development and jobs, not about sons of the soil," he said.
Mumbai Congress president Sanjay Nirupam, whose office was ransacked on Friday, owing to his support of hawkers said, "Raj is living in a fool's paradise if he thinks these acts will help him politically."
The MNS has defended itself, saying electoral outcomes do not matter while taking up causes. "We are fighting for the cause of the Marathi Manoos. We are not worrying about the elections,' said MNS secretary Sachin More. "As a political outfit, we have our programmes, but the welfare of the Maharashtrians is our party's core agenda," he added.
Close Story
Personalise your news feed. Follow trending topics