Friday's floods belie BMC's rain-ready claim
Jun 25, 2016 12:47 AM IST
Despite claiming that it is ready to tackle the rains this year, the BMC is yet to inaugurate the Britannia pumping station – vital to combat flooding at Dadar and Parel
The Brihanmumbai Municipal Corporation's (BMC) claim that the city is well-prepared for the monsoon this year was tested – and found wanting – as the city struggled to cope with the rain on Friday. The India Meteorological Department recoded 35.6mm of rain at Colaba and 64.6mm at Santacruz between 8.30am and 5.30pm.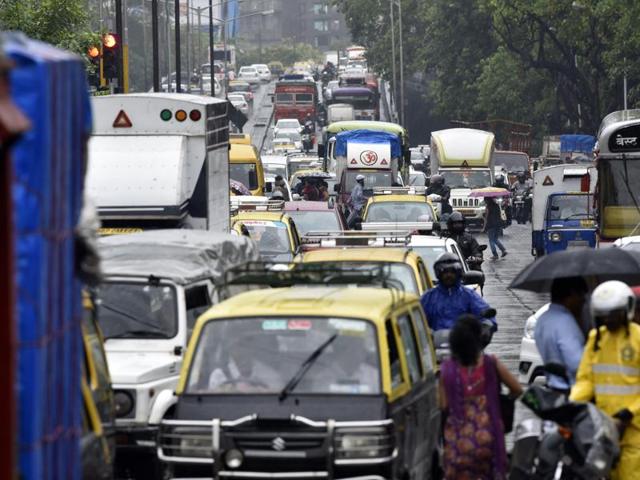 This moderate rainfall (the IMD classifies rainfall of 15.6mm to 64.4mm as such) was enough to cause flooding in many places, including near Parel TT and Hindmata in Dadar, areas that see floods every year. The rain also led to huge traffic jams, especially in the evening peak hours.
Despite claiming that it is ready to tackle the rains this year, the BMC is yet to inaugurate the Britannia pumping station – vital to combat flooding at Dadar and Parel. Over the past two years, the BMC has overhauled the underground drainage system near Hindmata to reduce water-logging. However, its efforts seem to have been in vain, as the area was submerged on Friday. The civic body also received complaints about flooding at P'Dmello Road, Lower Parel.
A civic official, who did not wish to be named, said, "We will inaugurate the Britannia pumping station next week. Water-logging was reported at two places but the floods receded in an hour at Dadar and Parel and even traffic was normalised."
While Mumbai has already received enough rainfall to cause floods, catchment areas of the seven lakes that provide water to the city are yet to receive heavy rains. A 20% water cut has been in force in Mumbai since last August.
The rain also led submerged train tracks at Sandhurst Road station on the Central Railway on Friday, but suburban services on both the Central and Western Railway ran more-or-less normally. Though trains ran a few minutes late, none were cancelled.
On Wednesday and Thursday, the BMC received complaints about five collapsed walls, nine short-circuits and 41 fallen trees from across the city.