Parents to taste mid-day meal at schools
Published on Nov 24, 2015 06:15 PM IST
A new circular has asked schools to put in place the system by December 1, to ensure that the quality of mid-day meals is up to the mark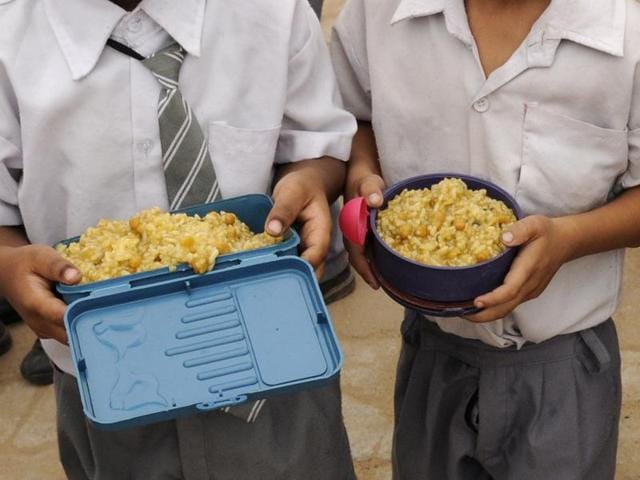 After the recent incidents of students falling ill after consuming mid-day meals at school, the state's directorate of primary education (DPE) wants parents to taste the meals before they are served to children in schools across Maharashtra.
A new DPE circular has asked schools to put in place the system by December 1, to ensure that the quality of mid-day meals is up to the mark. The circular states that if parents find the food sub-standard, they can report to the local education authorities through a text message.
The circular issued on Friday by Mahavir Mane, director of primary education, states that one parent will eat the meal along with the children and check whether it meets the nutritional standards prescribed by the ministry. "Nutritional standards of 450 calories and 12g of protein for primary students and 700 calories and 20g of protein for upper primary students," said Mane. "Parents can send a text message to local education officials, if they find the meals are not up to the mark."
The decision to involve students' parents was taken on the basis of suggestions made by a state government-appointed expert panel. The committee was formed to put in place standard operating procedures, to check the quality of mid-day meals, on the instructions of the ministry of human resource development in February this year.
Mid-day meals are provided to students in 1,100 civic-run schools and around 500 aided schools in Mumbai.
The scheme is meant to improve the nutritional status of schoolchildren, as students are served rice, khichdi, biscuits, among other items, in the meal. Some unaided schools have also opted for mid-day meals.
City schools said their parents-teachers associations (PTAs) will take up the task of monitoring the meals. "It is a good idea to rope in parents to check on quality of the mid-day meals," said Father Francis Swamy, principal, St Mary's School (ICSE), Mazgaon, who is also the joint-secretary of the Archdiocesan Board of Education (ABE) that runs 150-odd schools in the city. "We can ask some of the parents from the PTA to check the food."
Parents said the schools can pick those who can spare the time for the visit. "Many parents come to school regularly to pick up and drop children. They can be asked to taste the food," said Gautam Mehta, a parent from Grant Road. "Working parents will not have the time to go to school every day."
Personalise your news feed. Follow trending topics