Good news metalheads, Fear Factory confirms India tour
Updated on Oct 21, 2014 09:18 PM IST
At a time when Prime Minister Narendra Modi is pushing for foreign direct investment in the country and his efforts are making all the right noises, something on the same lines is brewing in the music scenario. Fear Factory will be on their maiden two-city tour of the country starting November 22.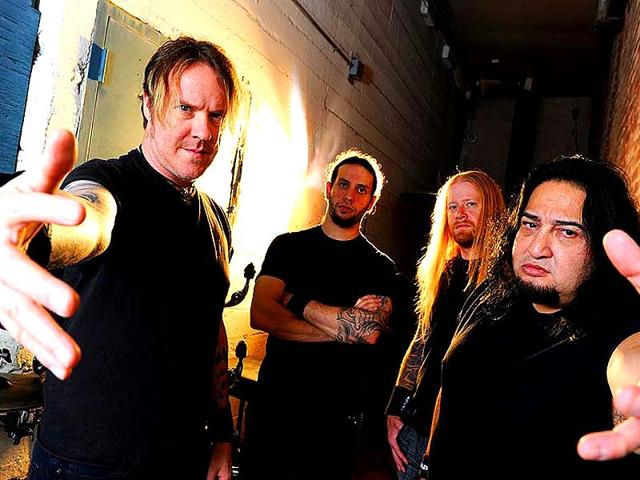 Hindustan Times |
, New Delhi
Debarun Borthakur
At a time when Prime Minister Narendra Modi is pushing for foreign direct investment in the country and his efforts are deservingly making all the right noises in the concerned circles, something on the same lines is brewing in the music scenario.
Although it might not appeal to all the Adanis, Ambanis, Birlas and Tatas of the country but is surely keeping Indian audiophiles keyed up. And guess what, it is straight from Los Angeles, California and has everything to do with industries (at least musically).
Come November 22 and Indian metalheads would get to savour one of the veterans of industrial metal in our backyard- Fear Factory. After cutting eight studio albums in their "musical factory", FF are working on their ninth full length album and would be giving their Indians fans a two-city visit at the NH7 Weekender in Pune and Delhi (and who knows they might just release the album here!).
Before their maiden visit, vocalist Burton C. Bell exclusively spoke to HT about their new album, persistent lineup changes, new record deal and of course why India is not just a tour destination for Fear Factory.
Hi, so finally Fear Factory would be in India. We're excited, are you?
I have never been to India. My expectations are to entertain the audiences with great music, and to watch the lovely people of India have a wonderful time.
Of late you are guys are keeping really busy. We heard Fear Factory got a new record deal with Nuclear Blast and is cutting a new album? How is the new record sounding?
Yes, we are very pleased to be part of the Nuclear Blast (NB) family. Our friend Monte Connor, who is the person that signed us to Roadrunner, signed us to NB. We trust Monte. Monte/Roadrunner is responsible for escalating FF to the level we reached. Monte is intent on rebuilding NBE into a metal label that Roadrunner once was. We have entered the studio. This album is classic Fear Factory style, however, I feel the song crafting has matured, and are some of the strongest songs that we have written in a while.
The band has gone through numerous lineup changes and a few ups and downs since 1989, but you guys still continue to release albums. What keeps Fear Factory going? what is the secret of the band's endurance?
Survival is the key. We are true artists, and music is what we live for. I chose to make this my career and I will go lengths to preserve it. If you want to really be a musician, you must make the decision early in life that music is all you wish to do. That is what endurance means.
Fear Factory started two decades ago. Did you think then that FF would be inspiring such a wide variety of bands (Slipknot, Static-X, Machine Head to name a few) over the years?
Not at all! We were creating music that was resonating within our souls. I am pleased to know that our music resonated within other artists so that they were inspired to create as well. To me, that is the ultimate accomplishment.
Now that calls for your musical inspirations. Who all would you like to name here?
It's true that I love all types of music. I believe that there is great music in all the genres. Every genre is defined by a great artist. Depending on my mood, you will find me listening to various artists like Nick Cave and The Bad Seeds, Swans, Godflesh, Willie Nelson, Richie Havens, U2(early), Miles Davis, Ian Brown, Mazzy Star, Killing Joke, Bee Gees, Einsturzende Neubaten, Blade Runner soundtrack, and many many more. I love music. It's my life. Always has been.
Personalise your news feed. Follow trending topics