Jennifer Lopez wears only a cape in new photos and internet is shocked she's as old as Kejriwal. Check out reactions
Jennifer Lopez shared a risque new picture from her photoshoot for a magazine and broke the internet with her looks.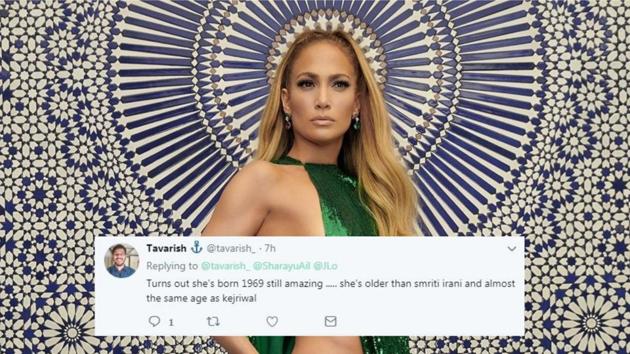 Updated on Nov 01, 2018 07:46 PM IST
Actor, singer Jennifer Lopez shared a bunch of pictures on Instagram on Wednesday and we are sure she must have expected the reaction that she got for them. The 49 year old Hollywood star posed in nothing but a shimmery green cape for one of the pictures and broke the internet with her hotness.
The picture—part of a photoshoot for InStyle magazine—got four million likes in almost 24 hours and 81,000 comments. While most were left stunned by her youthful beauty, great skin and confidence to die for, others also decided to crack a few jokes and make a few memes at her expense.
Someone tried to copy her look by covering themselves in banana leaves, others thought she was hiding behind a shower curtain. Check out a few reactions on her look:
In her interview for the magazine, JLo said her great body is a product of a lot of hard work. "I've taken care of myself and it shows," she said. She said she doesn't drink coffee, avoids alcohol and sleeps by 10pm.
She also addressed her personal life and how dating has changed in Hollywood overtime. She was in a high-profile relationship with actor Ben Affleck from 2002 to 2004 and is currently dating Baseball shortstop Alex Rodriguez. "When I met Alex, we had both already done a lot of work on ourselves. Everybody has flaws, and the people I want in my life are the people who recognise that and are willing to work on those flaws. It's super-important: someone who's willing to look at themselves and say, 'OK, I'm not great here' or 'I could do better there," she said.
Lopez also admitted that dating was "actually worse" back then. "It was just crazy. Now at least I can show you who I am a little bit. Back then you just believed anything you read on the cover of a tabloid," she said. "Many times it wasn't true, or it was like a third of the truth."
Follow @htshowbiz for more
Topics
Close Story