Ravi Shankar: 'The Godfather of World Music'
Updated on Dec 12, 2012 06:21 PM IST
Ravi Shankar, who died on Wednesday aged 92, was the world's most famous sitar player, who popularised classical Indian music abroad largely through his work with The Beatles' George Harrison.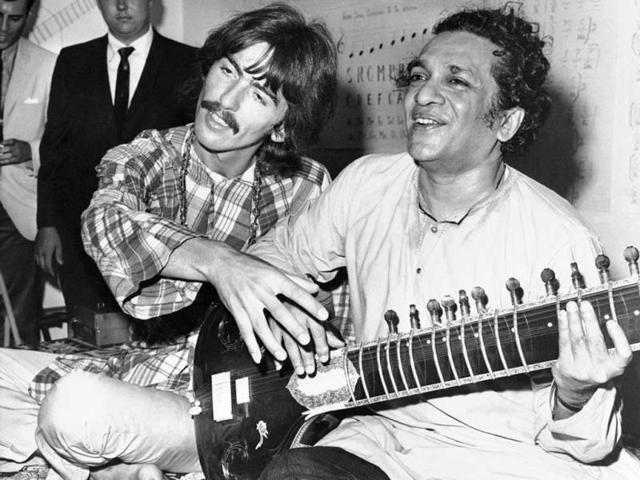 Ravi Shankar, who died on Wednesday aged 92, was the world's most famous sitar player, who popularised classical Indian music abroad largely through his work with The Beatles' George Harrison.


His extraordinary musical journey took him from the banks of the sacred River Ganges in British India to the legendary Monterey and Woodstock festivals, where he played alongside the likes of Janis Joplin and Jimi Hendrix.

At the height of his fame in the 1960s, when he was the darling of the hippie movement, he was described as "the most famous Indian musician on the planet" and his influence on pop music continues through his daughter, American singer Norah Jones.
Shankar taught Harrison to play the sitar and collaborated with him on several projects, including the groundbreaking charity Concert for Bangladesh in 1971. The Beatles called him "The Godfather of World Music".
Another collaborator, the violinist Yehudi Menuhin, compared his genius and humanity to Mozart.
Ravi Shankar was born into a high-caste Bengali family in the Hindu holy city of Varanasi in northern India on April 7, 1920.
He began his career at a young age, touring Europe with his brother Uday's dance troupe but returned to India in the late 1930s to study the sitar under the renowned musician Allaudin Khan.
Shankar first married Khan's daughter, Annapurna Devi, in 1941 and they had a son, Shubendhra. The couple later separated and Shubendhra, who also played the sitar, died in 1992.
Shankar's affair with a New York concert producer Sue Jones led to the birth in 1979 of Norah Jones, who has won nine Grammys with her blend of pop and jazz music.
He had a third child, Anoushka Shankar, with his second wife Sukanya Rajan. Anoushka became an accomplished sitar player in her own right and toured with her father, who was still giving concerts into his 80s.
Shankar started to attract the attention of musicians outside India after being introduced to violinist Menuhin in the early 1950s, leading to tours of Europe and the United States, as well as his first long-play album, "Three Ragas".
Among the major names in contemporary music influenced by him were The Byrds, whose 1965 track "Eight Miles High" bears the hallmark of Shankar's mesmeric sitar playing.
In the same year, Harrison, used a sitar he had bought on a whim on the song "Norwegian Wood".
Harrison met Shankar in London in 1966 and later travelled to India, where the maestro taught him how to play the plucked instrument.
Awards and collaborations with other top artists followed Shankar wherever he went. He composed three sitar concertos and worked with top conductors like Andre Previn and Zubin Mehta and the composer Philip Glass.
The first of his three Grammy awards came in 1967 for his collaborative album with Menuhin, "West Meets East".
The second in 1972 was for his Concert for Bangladesh album while the third in 2001 was for his "Full Circle" concert at Carnegie Hall in New York.
He was nominated for an Oscar in 1982 for his work on the film "Gandhi", was a recipient of both India and France's highest civilian honours and was awarded an honorary knighthood in Britain as well as a string of honorary degrees.
The Bangladesh concert at New York's Madison Square Garden, organised by Harrison, raised nearly $250,000 for UNICEF to help refugees of the South Asian country's freedom struggle and led to future benefit gigs like Live Aid.
Shankar said the concert was one of the most memorable in his long career given his close association with the people affected by the strife.
Shankar, who also sat in the Indian upper house of parliament and set up a charitable foundation, once said that his greatest achievement was in helping Western audiences to better understand Indian classical music.
But he said Indian audiences did not always approve of his association with Western rock stars and he was also not comfortable with the fame it brought him.
"When I started working with George Harrison I became like a pop star myself," he told Britain's The Guardian newspaper in a June 2011 interview. "Everywhere I went, I was recognised. I didn't like that at all."
Personalise your news feed. Follow trending topics