The Period Song by TVF is bleeding good, will leave you red in the face
Shark Week, Mad Cow Disease, celebrating the Japanese flag -- it is time periods lose the euphemism. TVF's Girliyapa takes a step in the right direction with the hilarious Period song.
music
Updated: Mar 11, 2016 17:08 IST
A few years back Whisper wished us 'Have a Happy Period'. Those days are still red in my memory (yeah, yeah bad pun). It is after watching Girliyapa's – TVF's all-women wing – hilarious but on-the-dot The Period Song that the cramps actually went away. It will leave you red in the face, you will laugh so hard. Note to self: Send Whisper guys the song's YouTube link.
People selling questionable white devices which soaked up blue liquid in probably the least creative ads ever gave us enough cliches for periods – 'mahine ke un dino mei' or ' that time of the month' being the fave.
Out of sort boyfriends/husbands provided the rest – shark week, mad cow disease. Out of sort girls call them code red, girl flu and a whole lot of other colourful words. Gone are the days that mummy daddy started discussing union budget (in October, no less) when ads of sanitary napkins beamed in your drawing rooms. But a lot still needs to be done to ensure the monthly woman problem become acceptable and normal and what can be a better vehicle than comedy?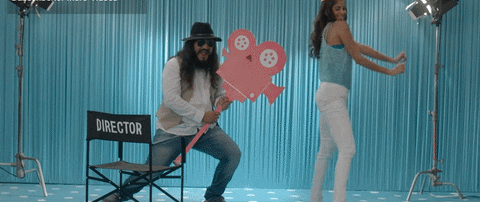 The Period Song targets every single stereotype related to periods. From women wearing really tight, really white trousers to play cricket/football/tennis (anything short of swimming) during periods or curmudgeonly old women warning you off pickle during woh paanch din, the song attacks every single cliche. While it is at it, the song tells women in ads not to bring the house down if there's a pimple on their cheek. Life will continue, you know.
Read: Swara Bhaskar wants to banish period pains
Don't take our word for it ladies, watch the song for yourself. And men, you can get a laugh out of it. Probably you will have some empathy for the ladies too.
The video stars Ahsaas Channa, Sandhya Mridul, Pavleen Gujral, Sumukhi Suresh and TVF regulars like Maanvi Gagroo, Navin Kasturia, Sumeet Vyas, Nidhi Singh and Jitendra, among others, and plays along the lines of of Hard Kaur's Chaar Bajj Gaye. Here are some great lines from the song...
'World war in our genitals which we are simply winning.'
'Red wedding in my pants because period aabhi baaki hai.'
'Horny ho gaye lekin boyfriend nahi raazi hai.'
First Published: Mar 11, 2016 17:06 IST