Female stalker prime suspect in acid attack on 23-year-old woman in Ghaziabad
The victim's family alleged that a woman, who had been pressuring the victim not to terminate their friendship, may have been responsible for the attack.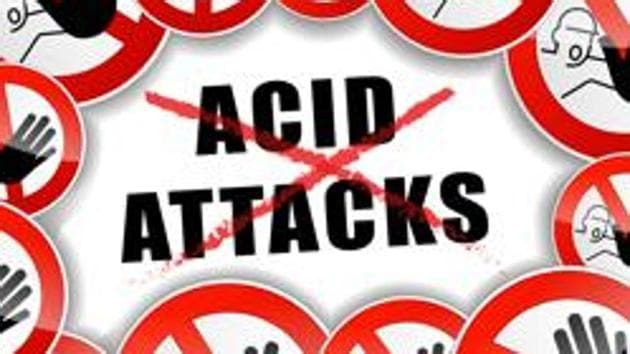 Updated on Mar 21, 2018 11:33 AM IST
A 23-year-old woman suffered severe burn injuries after two men on a bike threw a corrosive substance, suspected to be acid, on her while she was travelling in an auto-rickshaw near Ghaziabad's Mohan Nagar intersection on Tuesday morning. Five co-passengers also suffered burns.
The woman's family alleged that a 25-year-old woman, who had been pressuring the victim not to terminate their friendship, may have been responsible for the attack. She is from Kondli in Delhi and was a colleague of the victim in her previous job in a Noida company.
The family alleged that their friendship had soured. The victim moved to a different job afterwards. The police quoted the victim's family as saying the young woman and the victim had frequent altercations
"She is the same age as my daughter. They were friends earlier but my daughter snapped communication and she had been pressuring her to resume communication. We also lodged several complaints against her at Sahibabad police station and also at New Kondli police station, where she lives. She issued threats and followed my daughter regularly," the victim's father said.
The woman along with two unidentified men have been named in the First Information Report (FIR) lodged under section 326a (throwing acid).
The victim was brought to Safdarjung hospital in New Delhi with chemical burns. "According to doctors treating her, she has sustained 25% burns on her face and is in a critical condition. She has been admitted to the burns ICU (intensive care unit) of the hospital. The doctors also want to check whether there is any damage to her eyes," said the hospital spokesperson, Poonam Dhanda.
The victim is a marketing executive at an insurance company and is attached to a bank branch in Ghaziabad. She left her house around 9am and boarded an auto from the Lajpat Nagar neighbourhood of Ghaziabad to go to work.
"There were two young women, an elderly couple and myself in the auto," said Rahul Kumar, one of the passengers. "I was sitting alongside the driver. The victim was in the left of the rear passenger seat. Suddenly, two men came on a black bike and threw a plastic bag at her. It was filled with some blackish-blue liquid."
This was around 9.30am, barely 200 metres from the Mohan Nagar intersection. "Within seconds I could feel that my T-shirt had got burnt and the victim started screaming," Kumar said.
Close Story