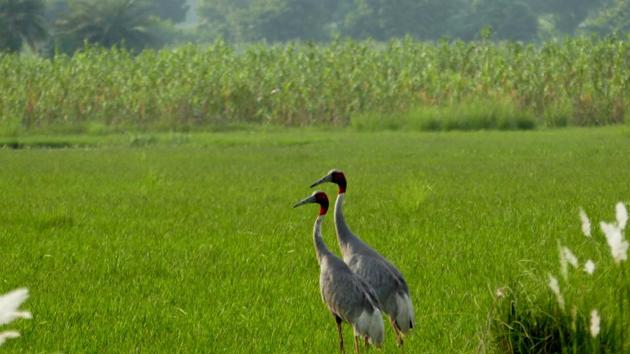 Conservation plan to be made for sarus crane habitat near Jewar airport land
The area for the upcoming Noida international greenfield airport at Jewar has a good population of Sarus cranes and peacocks and a conservation plan for these bird species is to be prepared.
Hindustan Times, Noida | By Snehil Sinha
UPDATED ON DEC 03, 2018 04:15 PM IST
The draft environmental impact assessment (EIA) plan for the upcoming Noida international greenfield airport at Jewar had said that the area has a good population of Sarus cranes and peacocks. The report further states that a conservation plan for these bird species is to be prepared an external consultant, which is to be hired by state agencies.
The draft EIA states that flight safety might be at risk if birds come inside the operational area of the airport as they can hit the aircraft.
As a mitigation measure, the report said that waste management, green cover maintenance and other steps will be taken to ensure that the bird population of the area does not affect movement of flights.
Other measures such as sound and light guns to keep birds away will also be taken up. These will help manage the bird population of the area, the document said.
"Artificial light can affect the orientation of birds. It also attracts insects, which in turn, attracts birds and bats as well as other animals that prey on these," the draft EIA said.
Bird experts mention that precautionary steps are regularly taken the world over to keep birds away from flying zones.
"Authorities usually ensure that within the airfield, and the area around where the aircraft approaches, has properly trimmed grass so that birds are not attracted to it. Waste disposal is also not done in the vicinity as it is food for birds," K B Singh, founder of Delhi Birders' Group, said.
He added that light and sound guns are also used near airports to scare away birds, which is essential for safety of flight paths. However, he added that it is unlikely that larger birds like Sarus cranes or peacocks would cause disturbance to flight movement.
"It is true that the region around the Jewar airport land is close to the Yamuna bank and has a high population of Sarus cranes. However, flights are usually disturbed by birds which move in flocks, such as crows or duck species," Singh said.
While the draft EIA report had said that a conservation plan is to be prepared by an external consultant, the forest department is in the process of determining the number of Sarus cranes in the area. Officials said while wetlands such as Surajpur and Dhanauri have a presence of over 200 Sarus cranes, there is still need for an official number from the Jewar area to determine the kind of conservation plan required.
"The Sarus crane is protected in Uttar Pradesh and an official statewide Sarus census is done every year. We will get an official count after the census is done in the second week of December. We will then prepare a conservation plan," P K Srivastava, divisional forest officer, said.
The Sarus crane is categorised as a vulnerable species, according to the International Union for Conservation of Nature (IUCN) classification. It is the state bird of UP and parts of western UP, especially areas around Etawah and Mainpuri, are among the bird's largest habitat in the world.
"This crane is listed as 'vulnerable' because it is suspected to have suffered a rapid population decline, which is projected to continue as a result of widespread reductions in the extent and quality of its wetland habitats, exploitation and the effect of pollutants," states the IUCN red list.
Experts said the protection of these birds would be ensured if the wetlands in the area are protected from disturbances, so that birds can find a safe haven in these wetlands.
"Surajpur and Dhanauri are two rich wetlands close to Jewar and both are unprotected. The government should make efforts to protect all such wetlands so that birds can find these areas as safe havens for habitation," Singh said.
Close