Dadri railway overbridge to be ready by July-end
Administration officials said the priority is to make the overbridge functional as soon as possible.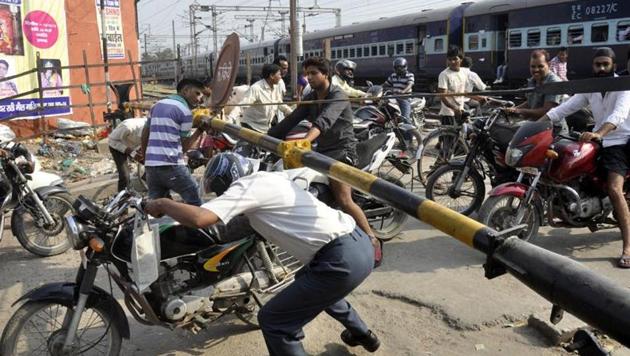 Published on Apr 19, 2018 10:40 PM IST
By Kapil Datta
, Greater Noida
A four-lane rail overbridge at the Dadri crossing is expected to be completed by July-end.
Residents have been awaiting the completion of the project for six years, as there is heavy congestion on the Noida-Dadri route.
Officials said the project is set to be completed after it received a push from the railways.
"The North Central Railway is constructing the rail overbridge (ROB) on the railway track near Dadri railway station and it is expected to be completed in the next few months. Of the four lanes of the overbridge, we will be able to complete two lanes by June and by July, it will be opened to the public," VP Aggarwal, construction company's site in-charge, said.
Aggarwal said the UP bridge corporation has constructed link roads on either side of the overbridge.
"Work on the railway track is being done by railways and a private company, Space Cam, which has been entrusted with the construction of four-lane overbridge in Dadri. We have constructed the beams for all four lanes. Of the six pillars, we have done steel bridge assembling, well foundation, pier columns and pier caps for three pillars. Work on the remaining three pillars will be completed in due course," Aggarwal said.
He said the overbridge is 12 metres wide and is 120 metres long.
Administration officials said the priority is to make the overbridge functional as soon as possible.
"Earlier, the construction agency had sought closure of the road for a week and they erected the pillars. Now, whenever they plan closure of the road, we will divert the traffic. Our aim is to ensure that the overbridge is made functional as soon as possible," Amit Kumar Singh, subdivisional magistrate, Dadri, said.
Dadri residents said the overbridge will save them from traffic hassles.
"Residents of Dadri have been waiting impatiently for the construction of the overbridge and it is expected to bring relief to us. The property rate in Dadri will also go up," Yatender Kasana, a resident of Dadri, said.
Dr Anand Arya, a social worker and a Dadri resident, said,"Once the overbridge becomes operational, it will relieve congestion and Noida-Dadri commuters will save travel time."
Close Story