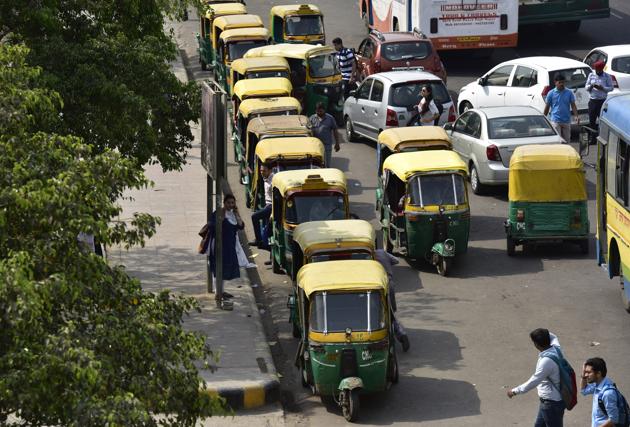 Every fourth autorickshaw in Noida is unsafe
Over 5,500 auto and commercial vehicle owners are yet to renew their fitness certificates
Hindustan Times | By Snehil Sinha
, Noida
PUBLISHED ON APR 05, 2018 10:56 PM IST
The transport department in Gautam Budh Nagar recently issued notices to over 5,500 autorickshaw owners and a
few other commercial vehicle owners for renewal of fitness certificates.
With 19,000 auto-rickshaws registered in the city, that makes every fourth such vehicle unsafe and running illegally.
Nearly 70% of the commercial vehicles in the city are autorickshaws that also do not have their tax permits renewed.
The current scenario raises road safety concerns for thousands of Noida residents who regularly use these autorickshaws for city commute.
Moreover, the lack of fitness certificate would mean that these vehicles may be contributing to the deteriorating air quality of the city.
There are 19,000 autorickshaws registered in Noida. Of them, over 5,500 autorickshaws have not renewed fitness certificates or tax permits.
"We issued notices, in batches, from February to March. We will be waiting for a month before we send the list of defaulters to the district administration to take action and recover the tax amount," A K Singh, assistant regional transport officer, ARTO administration, said.
When a vehicle is first registered, the fitness certificate is issued by the transport department for two years, following which it is supposed to be renewed every year. The registration details are checked every year around the financial year-end and notices are sent out.
Once the department sends out notices to defaulters, it waits for them to get the renewals done.
It periodically sends the list of departments to the district administration for recovery.
The administration is supposed to send its team, along with police personnel, to the registered address for checking and penalising defaulters.
"It is a cumbersome exercise to locate people's homes and recover the tax amount. In most cases, the addresses are not valid or the owner doesn't live at that address any more," Pandey said.
Officials say vehicle owners usually get fitness certificates renewed on time. Defaulters, usually, are cases wherein recovery of the tax amount never
happens.
Noida residents, meanwhile, said more robust procedures are required to penalise owners of such vehicles as it affects the safety of people, especially pedestrians and those using various means of public transport.
"We often hear of people getting hit by autos or getting into accidents involving autos. Most of them do not have valid papers. This is very unsafe because, in case of an accident, such vehicles cannot be traced. In this digital age, there must be a better way of keeping records and updating them more regularly," Shailendra Anand, a resident of Sector 75, said.
Close