FIR against BJP's Dadri candidate for panchayat in Bisada
Jan 20, 2017 11:24 AM IST
Police lodged an FIR against BJP's Dadri candidate Tejpal Nagar after he organised a panchayat in a temple in communally sensitive Bisada village without permission ahead of the Uttar Pradesh assembly elections.
The Gautam Budh Nagar police on Thursday lodged an FIR against Bharatiya Janata Party's Dadri assembly constituency candidate Tejpal Nagar, 58, for organising a panchayat in the temple of the communally sensitive Bisada village without permission.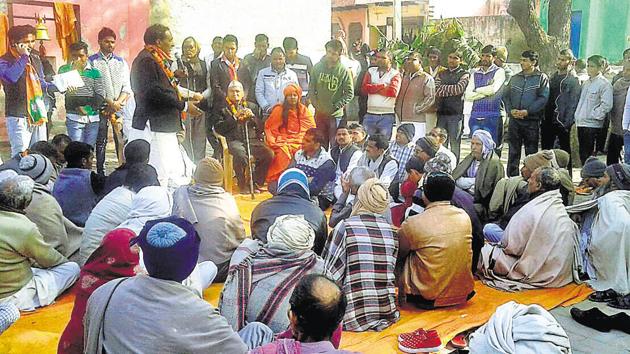 Bisada in Dadri, became infamous after 55-year-old Mohammad Ikhlaq was lynched by a mob last year over suspicion of cow slaughter and consumption of its meat. His son Danish was also badly injured in the attack. The incident had brought the Central government under a lot of criticism over violence by 'cow vigilantes'.
Ahead of the state assembly elections scheduled for February 11 in Gautam Budh Nagar, the election commission has put into effect the model code of conduct to maintain peace.
"No political party is allowed to organise a large gathering without permission from the election commission. If anyone does that, it will be a violation of Section 144 of the Criminal Procedure Code. Police has lodged an FIR against BJP's Tejpal Nagar because he did not obtain permission before holding panchayat in the temple of Bisada," said Amit Kumar, sub-divisional magistrate (SDM), Dadri, Gautam Budh Nagar.
Nagar, along with his supporters, reached the temple in Bisada at 9am and attended a large gathering of villagers. Bisada village head Sanjiv Rana, who attended the panchayat, said Nagar appealed for support in the elections.
"There are 5,600 voters in our village, including 100 from the minority community. Therefore, Nagar organised a meeting and a large number of villagers gathered," said Rana.
The district administration is probing whether the BJP candidate provoked villagers or sought votes on the basis of caste or religion.
"We are examining that aspect. If we will find any recording or clip of the panchayat, we will look into the issue," said Kumar.
The Supreme Court had on January 3 this year said it is illegal to seek votes in the name of religion, caste, race, community or language. Nagar, however, said that he did not violate any law.
"I did not organise a panchayat in Bisada. I did not seek permission because I was meeting people door to door. Then, hundreds of people gathered at temple, which I cannot control. I have not flouted any norms as I did not use caste or religion to seek vote. If the police has any video, they can examine it," he said.