Forest officials rescue two langurs from Greater Noida factory
Updated on Aug 22, 2018 11:42 AM IST
The animals were rescued at the instance of a NGO which received information on its helpline number. The handler of the langurs was also arrested.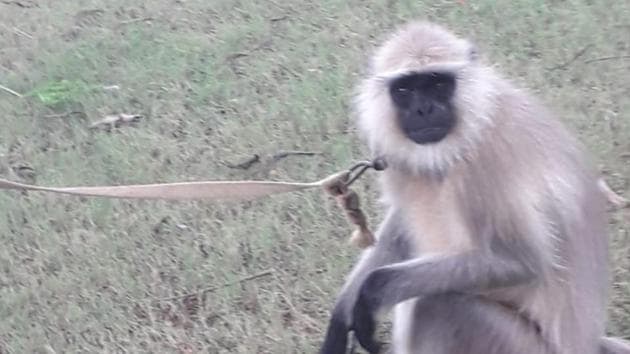 Greater Noida |
HT Correspondent
The forest department of Gautam Budh Nagar rescued two langurs from a factory compound in Surajpur area of Greater Noida at the instance of a non-governmental organisation (NGO). A case was registered against the handler of the animals and he was arrested.
The NGO, People for Animals (PFA), received information about the langurs on its helpline number. "A person, who doesn't want to be named, told us of the poor condition of the two captive langurs on the factory premises. Officially, we couldn't rescue them, so we informed the forest department. The langurs were found tied up and in bad shape," Kaveri Rana, president, PFA, said.
Officials of the forest department arrested one Raees, who was handling the langurs, on Monday . "We arrested Raees, but he is just a daily wager whose job was scaring monkeys away. We called the officials of the company who had hired Raees and the two animals. We are investigating the matter and will decide how to act against the company. We have booked Raees under sections 9 and 51 of the Wildlife Protection Act, 1972. The company will also be booked under the same act, once its role is clear," PK Srivastava, district forest officer, said.
Raees is now out on bail and has informed officials that he knows of 10-12 langurs kept in captivity in various factories to scare away monkeys.
"We have got a tip-off that there are around 450 langurs in the district that are being kept captive in various corporate houses and factories to scare monkeys away. Raees has also informed us that he is aware of a few. This is a big racket," Srivastava added.
Forest officials are now trying to hunt for the gangs that are training and selling langurs. "We are trying to get to the root of this illegal business of using langurs to scare monkeys. Most such gangs are active in Delhi, but we are trying to find who is supplying langurs in Gautam Budh Nagar," the DFO said.
The two rescued langurs were very hungry. "The two langurs were not given anything to eat apart from dry rotis for the last three months. They did not even have access to water. Both of them have been sent to the Kasna forest range. Later, the court will take a call on their release," Kaveri added.
Personalise your news feed. Follow trending topics