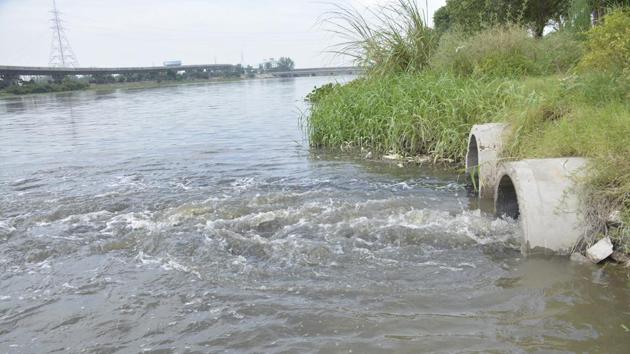 Ghaziabad: 'Nirmal Hindon Kosh' set up to fund river's revival plan
An account accepting donations for Hindon river revival has been set up with Allahabad Bank
PUBLISHED ON JUL 27, 2017 11:44 PM IST
In a bid to clean up river Hindon, the Meerut divisional commissioner on Thursday said that he has set up an account where donations by government agencies, residents, associations and others will be accepted as part of 'Nirmal Hindon', the revival and rejuvenation plan of the river.
Dr Prabhat Kumar, the divisional commissioner, was in Ghaziabad to discuss the river's clean up and revival plan with officials. He said that an account "MDA – Nirmal Hindon Kosh" has been opened up with the Allahabad Bank with the IFSC code "ALLA0212075" to which contributions can be sent.
"Cash donations will not be accepted in the account. We have already received Rs1 crore from the Meerut development authority. Other agencies such as the Yamuna Expressway Industrial Development Authority (YEIDA), the Ghaziabad development authority (GDA) and the municipal corporation will also contribute," Kumar said.
He said once the departments start providing funds, other agencies, associations, public sector undertakings, industries and even the government would be requested to contribute. He also added that a website about the river is being developed by the YEIDA and its beta version will be out soon. The website will have all important details regarding the river and also information such as the drains, sewage treatment plants and industries around it.
Kumar has asked the various agencies involved to speed up the work on Hindon's revival and to dig up ponds that will help preserve groundwater and provide sufficient water to the river as part of its system.
The GDA has already planned the revival and freeing up of ponds in the district and is currently digging ponds in different parts of the district.
"The monitoring of industrial effluents will need to be taken up strictly by the pollution control board in participation with the sub-divisional magistrates of the areas concerned. Farmers will be encouraged to take up organic farming to prevent pesticide and fertiliser run-offs from fields," Kumar said.
"Funds are not an issue. We have requested funds from the Centre's 'Namami Gange' project to clean up the river Ganga. For Hindon, we are also focusing on cleaning up and preventing pollutants in two of its tributaries, the Krishni and Kali rivers. The whole idea is to have community participation and a change of mindset before the river clean-up programme can show good results," he added.
For the long-term plan to preserve the river, Kumar has asked officials to form district-level awareness committees to educate the masses about keeping the river clean. This will also involve active participation from industries and associations. The officials will also get advice from experts involved in the Central government's 'Namami Gange' scheme.
The flow of water in the river is reduced now and carries industrial discharge, run off from agricultural fields and untreated sewage from different cities. The river originates from Pur Ka Tanda in Saharanpur near Shivaliks, which has mostly dried up, and confluences with the Yamuna at Momnathal in Gautam Budh Nagar.
Close