Greater Noida 'gang rape': Victim retracts statement, neighbours get clean chit
May 26, 2017 11:22 PM IST
One of the four women had earlier given a statement, saying three of the six suspects could be her neighbours. But on Friday morning, she allegedly retracted from her statement.
One of the four women allegedly gang raped on the Jewar-Bulandshahr Road in Greater Noida, off the Yamuna Expressway, early on Thursday have denied the involvement of her neighbours in the crime.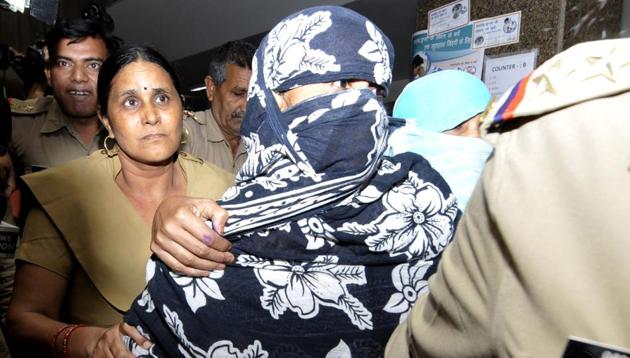 The woman had earlier given a statement to media persons, saying three of the six suspects could be her neighbours. But on Friday morning, she allegedly retracted from her statement.
Read | Women 'gang-raped', man killed: Police launch hunt for suspects in highway robbery near UP's Bulandshahr
"Through reports, we came to know that they were suspecting their neighbours and based on it, we raided a house late night. Five men were taken for questioning by the special task force and later released," said Rajpal Tomar, station house officer, Jewar police station.
Tomar said the women had not named any neighbour in the complaint. "We asked her about her apprehensions but she apologised for the statement and denied the involvement of neighbours. She said whatever she said was out of anger," added Tomar.
The neighbours in question live near the victims' house and the police have figured out a property dispute between the two families.
Read | Four women 'gang-raped': Victims were going to Bulandshahr hospital with Rs 47,500 for pregnant relative
After the woman's statement and police raid, there was tension in the tiny village in Jewar. Local clerics interacted with the victims and told them that they should not bring in personal enmity in this case else those involved will go scot-free.
"We live in one area and cannot think of committing such crime. It is true arguments take place but it does not mean any of us will be falsely implicated. The loss in the family is loss for us also and when police came to raid our house, we were ready to go through any investigation," said 42-year-old Sageer Ahmad, a neighbour of the victims. His brother Mohammad Salam was detained by police for questioning late last night.
On Saturday, a final statement would be recorded before the magistrate. "There we will be clear about everything," said Tomar, who is supervising the investigations.
He said surveillance had been mounted on the Bawaria and axle gangs.
Read | Greater Noida 'gang rape', murder: Death has haunted family for last 5 years
As many as 50 personnel from different security agencies - special operation group (SOG), special task force (STF), anti-extortion cell, crime branch and district police - have been roped in to solve the case.
Top officials have set a deadline of two weeks to work out the case - the alleged gang rape of four women and murder of a 38-year-old man.
The personnel will work in collaboration with Rajpal Tomar, station house officer, Jewar Police station.
Read | Greater Noida gang rape: Criminals have free run on 3km stretch, cops do little
The investigators are probing all the angles and studying similar cases to analyse the modus operandi of such gangs.
"In previous cases, we had identified many persons involved in such robbery cases. We will check all details and investigate accordingly," said an investigation officer.
Police suspect the culprits may be based in Bulandshahr and committed the crime with their Jewar-based accomplices. Late Thursday night, 18 men were detained for questioning, of which five were neighbours of the victims. They were released after an hour, said police sources.
The operations are being monitored by the inspector general of Meerut range, Ram Kumar, and supervised by Love Kumar, senior superintendent of police, Gautam Budh Nagar.
"Exciting news! Hindustan Times is now on WhatsApp Channels
Subscribe today by clicking the link and stay updated with the latest news!"
Click here!