Infra push in Noida: Three elevated roads proposed to end traffic congestion
Published on Dec 13, 2017 02:49 PM IST
END JAMS: Elevated roads planned on Master Plan-1 Road, Dadri Link Road and Dadri-Surajpur-Chhalera Road to NSEZ which promises to improve connectivity within the city.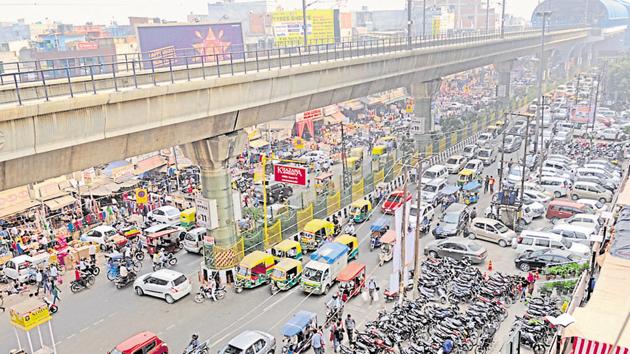 The city is gearing up for a major infrastructure push to ease traffic congestion. If the proposal of the traffic police to decongest Noida is acted upon, the city will have three more elevated roads — two of which will be linked to each other— to provide seamless travel, bypassing various congested stretches in the city.
To decongest three choked roads — Master Plan-1 Road, Dadri Link Road and Dadri-Surajpur-Chhalera Road to Noida Special Economic Zone (NSEZ) — the traffic police has suggested elevated roads on these stretches.
The recommendations have been made in a traffic action plan, which will be submitted by the chairman Noida authority to the state government-appointed panel of three ministers by December 18.
The traffic police, after conducting a survey recently, found that three more elevated corridors are required for the smooth movement of vehicles that get stuck in jams on a daily basis.
The traffic police are of the view that the only way to streamline traffic on the three road links — Master Plan-1 Road (from Rajnigandha Chowk to Sector 56) and Sector 49 to Noida Special Economic Zone via Dadri-Surajpur-Chhalera Road and Dadri Link Road (Sector 14A to Noida-Greater Noida Expressway) — is to have elevated roads as there are too many intersections/encroachments on these key stretches.
Once ready, the elevated road from Rajnigandha Chowk to Sector 56 will give relief to thousands of commuters using the stretch and will help them bypass several intersections.
The elevated road from Sector 49 to NSEZ will help commuters travelling between Noida and Greater Noida. They will be able to commute on the elevated road without getting stuck at Bhangel and Salarpur, where the roads are narrow and encroached upon by commercial establishments.
The traffic police has also proposed an elevated road from the Shahdara drain along Sector 14A to the Noida-Greater Noida Expressway which will not only decongest the Dadri Link Road from Sector 14A to the Mahamaya flyover, but also give relief to commuters using DND Flyway to go to Greater Noida.
Superintendent of police (traffic) AK Jha said,"The idea is not only to improve intracity traffic, but also to ease congestion on the road links with Delhi and Ghaziabad. The Rajnigandha elevated road/Shahdara drain elevated road can have an arm linked to the existing flyover on Master Plan-2 Road. That will take care of the congestion caused by the vehicles going to Greater Noida from Delhi via DND Flyway."
He said the elevated roads were proposed three years ago, but due to some reasons, work could not be started. "We have proposed these roads once again so that the ministerial panel considers it and makes budget allocation," said Jha.
Industries minister Satish Mahana, urban housing minister Suresh Khanna and cane development and sugar mills minister Suresh Rana are the members of the committee, which has asked the Noida authority and the traffic police to come up with an action plan.
The ministers' panel,on October 5, had formed a committee headed by Noida authority chief executive officer Alok Tandon to look into ways to address traffic-related issues.
The district magistrate of Ghaziabad will also be providing an action plan to improve the traffic scenario there. Once Ghaziabad officials provide their requirements, it will be integrated with the action plan report for Gautam Budh Nagar.
The traffic police has also called for the construction of 16 new foot overbridges in Noida and said those which have been constructed should be re-examined for viability .