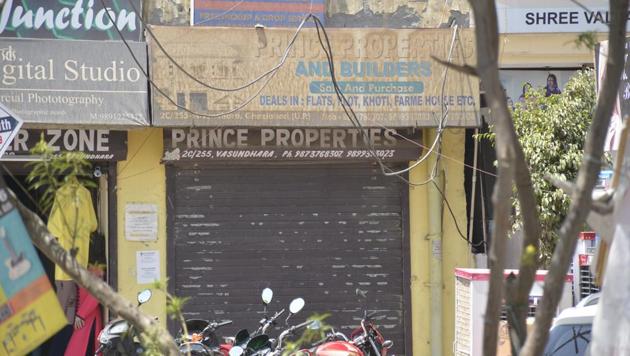 Man shot dead in Ghaziabad: Eyewitnesses heard shots, did not spot shooter
UPDATED ON MAY 01, 2017 10:47 PM IST
Workers of Bhati dhaba who witnessed the shooting incident in Vasundhara said that they heard three-four gunshots being fired but could not see the person who fired at the 30-year-old Amandeep Dhillon. The roadside dhaba is illegal and frequented by hundreds of customers in Sector 4 of Vasundhara, Ghaziabad.
The dhaba owner said that there were hundreds of cars parked on the roadside on Sunday as a local market was in operation. He said that none of the men, either from the accused or the victim's group, had come to his dhaba for food.
"Their cars were parked barely 10 metres away, under a tree. I saw three persons beating a bald man with rods and sticks, who fell down and was bleeding profusely. We heard three-four gunshots being fired near the cars but could not spot the man who fired," Tilak Bhati, the dhaba owner, said.
"After the man fell, a PCR van arrived and the three men who were beating him fled. The injured man was taken to the police station. It was only half hour later that an acquaintance came rushing and told us that a man was murdered by gunshots," Bhati said.
It later came to light that the injured man who was taken to the police station in the PCR van, identified as Sanjeev, is one of the accused in the shooting case.
The police had received a memo about a man (Amandeep Dhillon) being shot dead and brought to the hospital. "It was only after this we came to know that Sanjeev was one of the accused involved in the shooting incident. He was arrested. A hunt is on to arrest his accomplice, Prince," Anil Kumar Yadav, circle officer (Indirapuram), said.
On the other hand, Bijender Chaudhary, Prince's brother, said that both groups had opened fire, not just Sanjeev and Prince. "Both parties fired during the altercation. We are also trying to register our complaint but the police are not accepting our complaint. We will resort to the legal course in order to register our complaint. The firing was in self-defence and Sanjeev was brutally beaten by the victim's group. He had to get 21 stitches on his head," he said.
The incident took place in the busy residential Sector 4 area of Vasundhara. There are many eateries, dhabas, shops and a college near the scene of the crime.
Dhillon's relatives said that a post-mortem examination was conducted on Monday afternoon and the body was taken to Kapurthala in Punjab, their hometown.
"We will get a ballistic examination of both pistols done to ascertain which bullet hit the victim and the other man who got injured. Sanjeev's pistol was seized while the other pistol is still believed to be with Prince, who is absconding," the circle officer said.
Close