Noida: No exemption from fee payment for protesting parents, says DPS
The school principal of DPS Gautam Budh Nagar said they will not make any exemption for parents protesting the fee hike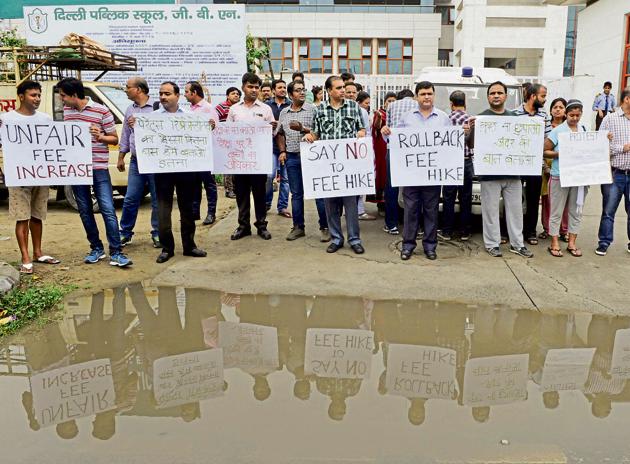 Published on Apr 07, 2017 12:00 AM IST
The management of Delhi Public School (DPS) Gautam Budh Nagar, on Thursday struck a stern note on the issue of hiked fee, the resultant parents' protest and the recent rustication of 45 students. The school principal said they will not make any exemption for 'disgruntled and adamant' parents.
Earlier this week, DPS had kept the results of over 60 children on hold for delay in payment of school fees and annual charges by their parents. The school management had hiked the school fees by 14% in the beginning of the 2016-2017 academic session, and a group of parents had been protesting since.
On Monday, the school said that a total of 45 of those 60 students had been rusticated over non-payment of fee. The parents of these students have been agitating for the past one year demanding that the school management roll back the hiked school fee and the annual charge of Rs27,300.
Defending the increase in fees, DPS Gautam Budh Nagar principal Indira Kohli said the 14% hike was justified due to the cost of implementing the seventh Pay Commission recommendations.
"DPS had hiked the fee by 14% (which was) necessitated by the increase in salaries due to the seventh pay commission. Even if we leave aside the other cost escalations, this hike is barely sufficient to meet the staff salary. The school is only five years old and unfortunately runs into a deficit year after year," she said.
Regarding the levy of annual charges, Kohli said they too are needed to meet costs.
"Annual charges ensure that the school runs smoothly and covers expenses such as housekeeping, electricity charges, generator charges, safe drinking water, medical insurance of staff and students, workshops and seminars," she said.
On the matter of the rustication of 45 students, Kohli said the parents of these children had been sent numerous notifications through the year about the delay in payment.
"We sent repeated requests through SMS, e-mails, and almanac notes to the parents who had refused to pay fee for the entire academic session 2016-17. Despite this (the non payment), the school did not disrupt the education of their children and allowed them participation in scholastic activities. These children had also availed bus services," she said.
Kohli added that the school management will not provide any exception with regard to fees.
"We are firmly of the opinion that there should be a uniform code for all and no exemptions should be made for a few disgruntled, adamant parents where all reasoning and talks have failed. If these few rebellious parents are allowed not to pay, other parents may take a cue and also not pay, eventually forcing the school to shut down, harming the 2,400 students who are currently studying in it," said Kohli.
Close Story