TED Talks: World's youngest IBM programmer Tanmay talks about artificial intelligence at Sharda University
Published on Dec 01, 2018 02:52 PM IST
15-year-old Tanmay Bakshi works as a programmer and is based in Toronto, Canada. His love for coding led him to create 'AskTanmay', which is the world's first natural language question answering system to be powered by IBM Watson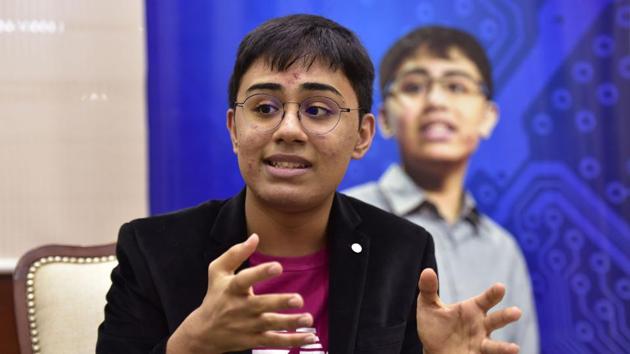 Exploring the future of artificial intelligence (AI) in our day to day lives, computer whiz kid Tanmay Bakshi said at an event in Greater Noida that instances of fake news, hate speech and harassment on social media can be dealt with the use of AI.
Fifteen-year-old Bakshi, the world's youngest IBM Watson programmer, was at Sharda University in Greater Noida on Friday for a TED Talk with students on computer programming and the future of artificial intelligence. He said AI can be monumental in curbing fake news and hate speech.
"Fake news is huge and I myself have been a victim of it where one of my TED Talk videos was uploaded on Facebook with the caption that I work for Google and I make billions of dollars a year. I believe social media giants have started using AI to clamp down on fake news and hate speech. For example, Facebook is using machine learning (alternatively known as AI) to understand the content being put up, match it with trusted sources, understand the different point of views which people can have, and when they are absolutely sure that it is fake news then it will be automatically flagged for deletion," Bakshi said.
Bakshi works as a programmer and is based in Toronto, Canada. His love for coding led him to create 'AskTanmay', which is the world's first natural language question answering system to be powered by IBM Watson, which is a question-answering computer system capable of answering questions posed in natural language, developed by IBM.
"Similarly, Twitter is now using AI to find certain accounts indulging in hate speech or harassment and putting them down. Regular technology would not have been able to understand the content that is being put out on social media by people, but artificial intelligence can," Bakshi added.
In 2017, engineers at Facebook had designed two robots equipped with AI to converse with each other according to their research. However, they had to shut the project down when they realised the robots had started conversing in a language they were not programmed to talk in. The incident had started off a debate over the extent of AI in everyday life as well as concerns regarding safety.
However, Bakshi said the two robots had developed a more optimised usage of the language they were trained in.
"There was one key mistake engineers made in that particular project. Originally, the two robots could communicate in English, as trained by engineers. However, the robots optimised the language as they realised that humans use too many words in English to communicate which they don't really need. It was basically mathematical optimisation of a language and not that robots are getting intelligent on their own," Bakshi said.
He added that AI can be used effectively in several sectors in India.
"We are currently researching use of AI in agriculture where we are trying to understand plants in order to know what is the most efficient way to minimise use of water and maximize yield," Bakshi said.