Apply a gendered lens to disaster management
Feb 06, 2023 10:57 AM IST
Serious thought must also be given to imparting skills to women on how best they can deal with disasters to minimise trauma and risk.
The recent Joshimath tragedy and many similar disasters have brought into sharp relief the fact that those who suffer the most in such extreme events are invariably women and children. This is not to undervalue the trauma suffered by men, but to highlight the inescapable truth that the inequalities and sociocultural norms that exist in society almost always militate against women in such cases. Disasters bring a host of challenges for women, among them forced relocation and diminished access to education, work, and health care.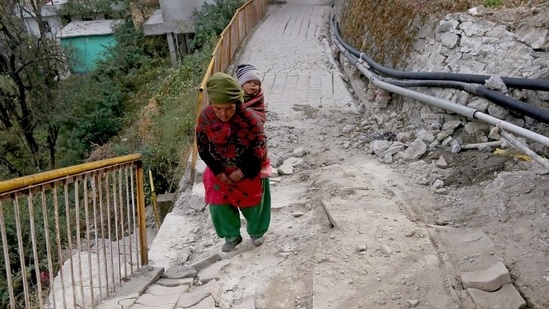 These are just some of the reasons why women have to be involved in any disaster management policy. However, neither women nor the specific problems faced by them feature in our one-size-fits-all policies. In the aftermath of disasters, women find themselves overburdened with not just traditional roles of care-giving but may also have to take up whatever work is available, in the event of the death or displacement of the main male breadwinner. There have been reports during most disasters of women being trapped in their homes, unable to respond effectively in time. According to a World Bank report, women face barriers to accessing information and resources needed to adequately prepare, respond and cope in the event of a disaster — including access to early warnings and safe shelter, as well as to bank accounts to protect savings.
Sanjukkta Bhaduri, former dean and coordinator, Centre for Urban Disaster Studies, School of Planning and Architecture, New Delhi, says, "The specific needs of women in terms of sanitation and clothing are required to be considered during the management of relief. Training for developing skills and capacities for new and alternative livelihood opportunities becomes even more essential for women. However, women are generally not involved in the planning and management of emergencies in terms of decisions related to specific relief materials, their distribution and building capacities for livelihood generation. In recent years, various organisations such as United Nations Women and government bodies have acknowledged the role of women in risk preparedness. Success stories show that women are capable of contributing as leaders and key stakeholders in disaster management and framing long-term solutions to mitigate the impact of disasters."
The other danger is that in the aftermath of disasters, women are left vulnerable to various kinds of abuse. These include rape and trafficking. Temporary shelters offer women little protection or facilities and diminish their quality of life. Access to justice or other institutional mechanisms is virtually ruled out.
There are many solutions, one being to involve women in disaster management. Have they got the tools to, for example, move in time from a disaster area to a safe one? They must have the necessary skills and funds to build a degree of resilience in times of disaster rather than wait for help to arrive, which it may not at times. We also need more research into what women need, how they are affected by disasters and how they can be rehabilitated in the shortest possible time. Access to shelter is a key component of this approach.
Serious thought must also be given to imparting skills to women on how best they can deal with disasters to minimise trauma and risk. So, they should find a place at the high table of disaster planning, relief operations and risk assessment. Yet, women's voices are still not heard. This must change as extreme climate events and man-made disasters are on the rise.
lalita.panicker@hindustantimes.com
The views expressed are personal
Enjoy unlimited digital access with HT Premium
Subscribe Now to continue reading