Bharat Jodo Yatra: A journey of our lifetimes
Jan 28, 2023 10:55 PM IST
From conceptualisation to execution, the yatra is a remarkable testament to the organisational ability of the Congress
As you read this, the Bharat Jodo Yatra is in its final lap, having traversed 14 states and 75 districts. The grand old party is alive and kicking, thank you very much. Before the yatra kicked off on September 7, few could have predicted the outcome of what was a significant political gamble taking an appreciable portion of the party's time and resources. But the response has been heartening, a jolt of adrenaline running through the Congress system. Whether it's professionals, intellectuals, farmers, small businessmen, women, children or senior citizens, the party is engaging people at the grassroots level on a scale and at a tempo rarely seen outside electoral politics. It has reinvigorated the party's base, cadre and leadership, as they worked together, often in competition, to make it a success.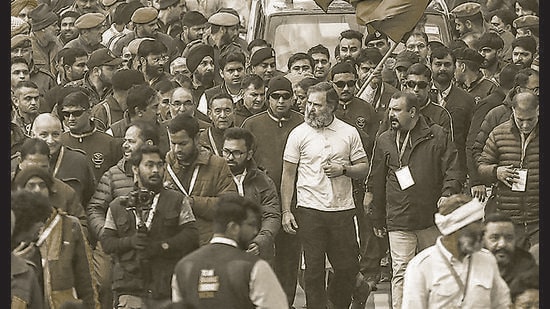 We saw the coming together of a wide range of intellectual and activist points of view onto a common national platform of opposition to the Bharatiya Janata Party-Rashtriya Swayamsevak Sangh combine. This is not only because the yatra's core ideology of unity, diversity and tolerance gained traction in an environment of communal and social divisiveness, but also because the Congress actively engaged diverse individuals, from academics and writers, labour union leaders and actors to journalists, doctors and jurists. For the first time, they had a common platform.
The other major difference from the past is that the Congress, perhaps after a while, has differentiated itself in shaping the media discourse and capturing the popular imagination. Take a look at Rahul Gandhi's schedule. Apart from walking 20-30 kilometres daily, he has headlined a corner meeting a day, 13 press conferences, and 12 public meetings. That's a gruelling schedule by any standard.
From conceptualisation to execution, the yatra is a remarkable testament to the organisational ability of the Congress. To manage the daily, shifting living accommodation of thousands of yatris, route planning, logistics, and managing rallies of 100,000 people is a formidable task worthy of a global conglomerate.
Through the yatra, we also saw the emergence of a more nuanced picture of Gandhi. The question at the outset, even among Congress leaders, was whether he would be able to walk 20 -30 kilometres day after day, for five months. Apparently, he can. His gruelling schedule, one-on-one interactions, corner meetings and press conferences are sketching a new image as a leader. For those who observed him in closed-door interactions with tribal communities, farmers, and intellectuals, the breadth of his vision and the fluency of his communication are revelatory. This isn't the pappu (simpleton) portrayed on social media, it's a leader with vision and gravitas.
But it's not what's happening in the limelight that defines the yatra. It's the men and women who joined with complete disregard for personal goals or publicity. The Pandeys from Madhya Pradesh — a husband and wife team — who have, unbidden, walked with us since Kanyakumari. Mohit from Haryana who often sleeps in fields, seeking shelter in villages. Congressman P Ganesh from Tamil Nadu, who had walked 13,000 kilometres in Congress yatras since 1991, and wanted only a certificate to prove he'd walked this one too. Their stories will need to be told, because they are the essence of the yatra.
Ultimately this is a personal journey for all participants. You get up at 4 am, the body crying for a little more sleep, run to be first to the toilets, get dressed, and wolf down a quick breakfast, before lining up for the Tricolour-raising ceremony. And then, in sunshine or darkness, rain or freezing cold, you hit the open road. You think maybe centuries ago, Shankaracharya came this way, or a Bhakti saint. Some of us walk in groups to the beat of the music with cheering crowds, others walk alone, lost in their thoughts; but we all walk across India in the journey of our lifetimes.
Manish Khanduri is a Congress leader. @manishkhanduri1The views expressed are personal
Enjoy unlimited digital access with HT Premium
Subscribe Now to continue reading