BJP's Dalit trouble in UP: There is more than meets the eye
The Dalit MPs of BJP have rebelled against the party for not doing enough to protect their community. All of them are first time MPs from Uttar Pradesh, where the government of Yogi Adityanath has come under attack for discriminating against the Dalits.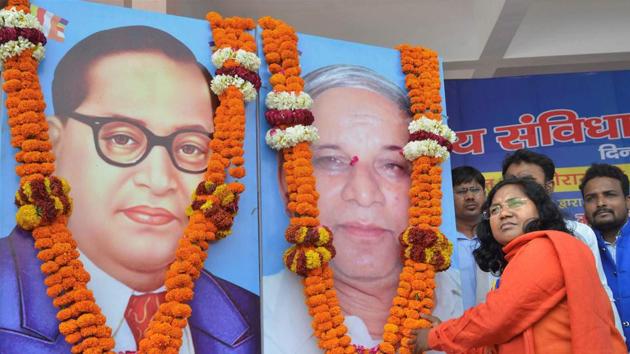 Updated on Apr 08, 2018 08:26 AM IST
What do Ashok Dohrey, Chhotelal Kharwar, Yashwant Singh and Savitri Bai Phoole have in common?
They are among the Dalit MPs of Bharatiya Janata Party who have rebelled against the party for not doing enough to protect their community. All of them are first time MPs from Uttar Pradesh, where the government of Yogi Adityanath has increasingly come under attack for discriminating against the Dalits.
On Saturday, it emerged that Yashwant Singh, BJP's lawmaker from Nagina in western Uttar Pradesh, had also written to Prime Minister Narendra Modi, accusing the NDA government of "doing nothing for the 30 crore Dalits of the country."
Earlier this week, Chhotelal Kharwar made headlines when he made his letter to the PM public, accusing Yogi and other state BJP leaders of not acting against party officials in his area who were conspiring against him. The MP from Robertsganj said he was scolded and thrown out of the office of the UP CM, when he had gone there for help. On the same day, Ashok Dohrey, BJP MP from Etawah, shot off a similar letter, saying Dalits in UP were being unfairly targeted by the police.
BJP's Dalit trouble in UP began last week with Savitri Bai Phoole who came down heavily on Modi government's stance on the Supreme Court's order on the Prevention of Atrocities against Scheduled Castes and Scheduled Tribes smacked of a conspiracy to scrap reservation for Dalits.
The 37-year-old lawmaker from Bahraich then went on to organise a mass rally in Lucknow on April 1, a day before the nationwide protests that saw Dalit anger spill over to streets across the country.
Notwithstanding their shared grievances against Yogi, there is something else that is common to these four Dalit MPs who have rung in a rebellion of sorts.
All of them are lateral entrants in BJP. Neither did they grow up with any social ties to the BJP nor were they groomed in Sangh politics.
Phoole joined politics inspired by Kanshi Ram – the founder leader of Bahujan Samaj Party. She switched to BJP in 2002. Both Yashwant Singh and Ashok Dohrey were ministers when Mayawati was the chief minister between 2007 and 2012. Prior to BSP, Singh was with the Rashtriya Lok Dal.
Phoole and Dohrey are looking to go back to BSP, according to reports in local media. There is speculation that Singh might also be looking to exit. Chhotelal Kharwar told journalists that he is not in the good books of Sunil Bansal, BJP's man in charge of UP.
All of them are vulnerable to switching sides, and there is a reason. In three of the four constituencies they represent, Dalits and Muslims together account for more than 50% of votes. In Etawah, where it's about 30%, the Yadavs have a strong presence. The chances of these MPs getting re-elected on a BJP ticket have dimmed, given the new-found bonhomie between the SP and the BSP and the prospects of an anti-BJP alliance that will likely include the Congress party.
In all these constituencies, the combined votes of SP, BSP and Congress were significantly higher than that of the BJP during the 2014 general elections of 2014 as well as the 2017 assembly elections.
The four MPs had won largely because of the Modi wave and a split opposition. Last month's Lok Sabha bypolls in Phulpur and Gorakhpur, however, showed the extent to which the BJP's political dominance can be undermined by the SP-BSP combine.
Caste data available with the political parties shows that Dalits, Muslims and Yadavs have more than 40% votes in 44 of the record 73 seats that the BJP and its ally, Apna Dal, won in 2014. In 37 of the 73 seats, the SP and BSP polled more than the BJP. If votes polled by the Congress party are added, that number climbs to 51.
This pattern remained mostly unchanged until the assembly elections last year. In 2017, the BJP and its allies polled about 34.4 million votes in the state, while that of SP, BSP and the Congress totaled 43.6 million.
With no wave in 2019, the outcome of the next Lok Sabha elections in Uttar Pradesh will largely depend on caste arithmetic.
In Phulpur and Gorakhpur, the BSP demonstrated it can successfully transfer its votes in favour of the SP. It remains to be seen if SP can reciprocate. That will be tested when bypolls are held in Kairana, another BJP-held Lok Sabha seat that fell vacant due to death of its MP. The BSP is expected to contest this seat with the support of SP, and possibly the Congress party.
If Kairana swings away from BJP, expect another round of implosion. Clearly, the BJP's Dalit trouble in the heartland of Indian politics is far from over.
(The author is Editor at Large, Hindustan Times. He tweets as @rajeshmahapatra)
Close Story
Personalise your news feed. Follow trending topics