Chandigarh's Sukhna and Nainital's Naini lakes are going dry. Here's why
Updated on May 23, 2017 01:10 PM IST
Lakes are at present under different departments including public health engineering, water supply, fisheries, irrigation, urban development, tourism and forests, public works department and forest and environment. Similarly the catchments are controlled and used by different agencies.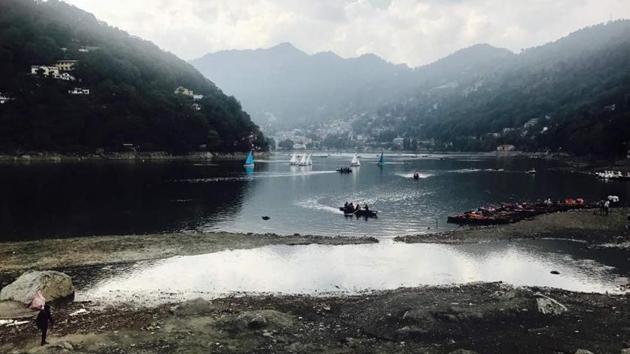 India has thousands of traditional wetlands (ponds, tanks, lakes, vayalgam, ahars, bawdis, talab). But thanks to demographic pressure and economic growth, these water bodies are under stress.
Reports suggest that Chandigarh Sukhna and Nainital's Naini lakes --- both huge tourist attractions ---- will go dry in the coming weeks. The same is the fate of many lakes across the country.
According to the Centre's draft State of the Environment report, 2015, loss to the Indian economy from water resource depletion is pegged at 6% by 2050 if the country continues to manage its water the same way.
Hindustan Times spoke to Susmita Sengupta, programme manager (Water), Centre for Science and Environment, on why India's lakes are going dry.
KD: Chandigarh's Sukhna Lake and Nainital's Naini Lake are almost dry. Why is this happening?
SS: Both the lakes are in poor state due to the apathy of the government departments that are in charge of these lakes. There are also reports on reduction of rainfall in these areas. In case of the Naini Lake, rapid population growth, uncontrolled expansion of tourism, deforestation in the catchment area, unrestricted building activities on the slopes, frequent landslides and direct discharge of sewage are playing havoc with the lake and its ecology. In the case of Sukhna, there has been huge silt flow thanks to unplanned urbanization in the catchment area.
KD: Urban water bodies are neglected across India…
SS: This is because urban planners cannot see beyond land and so the land that holds water is no longer valued or protected. Today, urban water bodies or systems are seen only as 'holes in the ground', a lucrative real estate for builders or the last resort for slum dwellers or garbage dumps.
As a result, water bodies and their catchment areas have been encroached upon or taken away for housing and other buildings –by default and intent, by the poor and the rich, alike. There aren't clear laws to protect urban water bodies and their catchment. Instead there are too many corrupt authorities. The catchment area of a lake is invariably in the hands of multiple agencies. The channels, drains, that bring water to the water body are lost or are full of garbage and sewage. Lake preservation is not limited to the lake area, but is also dependent on the catchment area and the drains that bring rainwater into the lake.
In late seventies, scientists from the Chandigarh-based Central Soil and Water Conservation Research and Training Institute were looking for solution to end silting of the Sukhna Lake. They observed that run-off from the denuded Shivalik hills of Sukhomajri (a village in the Panchkula district of Punjab) was a cause of siltation in the lake.
To check soil erosion, the team constructed four check dams and planted trees on the hills. The scientists motivated farmers to refrain from extensive grazing in the area. But sadly this village is now in the grip of urbanisation, leading to mismanagement of catchment areas. This has caused siltation.
KD: How will diminishing number of water bodies impact India's future?
SS: Lakes and wetlands are an important part of urban ecosystem. They perform significant environmental, social and economic functions, ranging from being a source of drinking water, recharging groundwater to acting as sponges, supporting biodiversity and providing livelihoods. Their role becomes even more critical in today's context when cities are facing the challenge of rapid unplanned urbanisation. Natural streams and watercourses, formed over thousands of years due to the forces of flowing water in the respective watersheds, have been altered because of urbanisaiton.
Their numbers are declining rapidly. For example, Bangalore had 262 lakes in the 1960S, now only 10 have water. Similarly, in 2001, 137 lakes were listed in Ahmedabad city, and construction work had started on 65 of them. Take for example, Hyderabad. In the last 12 years, the city has lost 3,245 ha of its wetlands. The process of restoration gets delayed because of the lack of understanding the ecology of the water bodies, conflict of interests between the land owning agencies and the stakeholders.
KD: How much has the central and state governments done to preserve lakes etc? What needs to be done in terms of legislation?
SS: On December 2010, the ministry of environment, forests and climate change published exclusive rules for wetland management under one authority. Before this, wetlands in the country were protected indirectly under many laws, including the Indian Wild Life (Protection Act), 1972, the Indian Fisheries Act, 1897 and the Indian Forest Act, 1927.
The new regulations, called Wetland Rules, 2010, require states to identify and notify their wetlands. But so far, not a single state has compiled the data, or created nodal agencies, as per the rules. In July 2016, the green bench had ordered that a Central Wetlands Regulatory Authority (CWRA), which was formed under the rules, should meet monthly. Comprising experts and government representatives, the CWRA was set up to know the status of the work and to ensure the proper implementation of the rules. However, CWRA met only three times since 2011.
In December 2016, the ministry announced a fresh set of rules called Wetlands (Conservation and Management) Amendment Rules, 2016, which give more power to the states. But the question is whether new rules should have been announced when the Wetland rules, 2010, were not even implemented properly.
Lakes are at present under different departments including public health engineering, water supply, fisheries, irrigation, urban development, tourism and forests, public works department and forest and environment. Similarly the catchments are controlled and used by different agencies. The controlling and management agencies for the water bodies and their conflicting interests remain the main cause of degradation of water bodies. It has been seen that creation of a single apex authority in place of different lake owning agency is very essential.
KD: In December 2013, Centre for Science and Environment drafted a Framework Legislation for Conservation and Protection of Wetlands in South Asia. Please elaborate on the framework.
SS: The framework was drawn up by CSE with the help of Enviro Legal Defence and experts from different South Asian countries. The main aspects of the draft are: Decentralisation of management of the wetlands and use of technological advancement in conservation and protection of wetlands. The framework suggests a classification of critical wetlands for areas that are integral to sustaining environment and livelihoods of local communities. It talks about various parameters for identification of wetlands, including geohydrological, area, size-circumference and volume specific, location specific (urban and non-urban) and nature specific (seasonal/perennial and critical/ non-critical).
@kumkumdasgupta