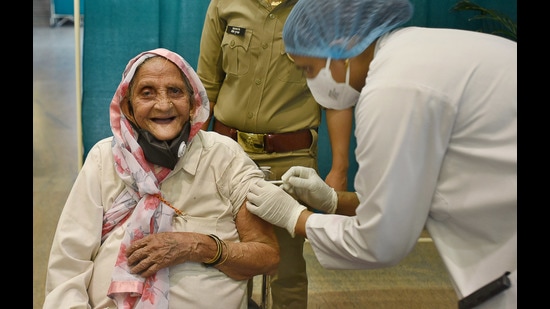 Elderly women need better care and support
Elderly women need easy access to home health care, access to essentials preferably through home delivery, and above all compassion and care from their families and State systems
PUBLISHED ON MAY 29, 2021 07:43 PM IST
The pandemic has exposed, among other things, how the voices of women are rarely heard in the formulation and execution of policies that have a direct bearing on them. Among the most invisible cohort of women are the elderly.
As a vicious second wave of the virus rips through the country, older women and their needs have been largely overlooked as the government and other institutions scramble to utilise the scarce resources available to tackle the pandemic.
Elderly women in India are largely dependent on their families for economic and social well-being. They have limited autonomy and limited mobility, especially now with the onslaught of the virus. With their families preoccupied with the stress of lack of jobs and loss of loved ones, older women face increasing isolation and loneliness, leading to severe psychological problems. The small proportion of elderly women in care homes are often cut off from their families.
With professional caregivers either unavailable or unable to reach homes, the task of care-giving for an elderly spouse largely falls on women who may themselves be in precarious health. Many of them are not conversant with digital devices, cutting them off further from an increasingly digitally connected world. This also means that tele-health care is out of their reach.
The idyllic Indian traditional family hardly exists anymore, and in several families, the geriatric person could well be considered a burden on resources. This could lead to abuse of the elderly, particularly women, both emotionally and physically.
Inclusive strategies for the well-being of geriatric women, and men, should be part of our public health policies going forward. Research-driven policies need to be tailored based on their voices as well.
Irrespective of the virus, elderly women tend to suffer from a host of medical problems ranging from diabetes, hypertension, pulmonary disorders, heart disease, most of which require lifelong medication. The decline in sensory functions also limits their ability to live independent lives. Since women are more likely to be dependent on the spouse for an income, the death of an elderly spouse leads to them facing greater adversity. Many do not have pensions or other economic cushions, leaving them unable to fulfill even basic needs on their own.
Though there was a realisation, well before the advent of the virus, that we have to plan for a geriatric population, this is not fully understood by either doctors or caregivers, few of whom have specialised in this field. To be sure, there are various government schemes for the elderly, though none targeted specifically at women.
There is the National Policy on Older Persons launched in 1999 with the specific aim of catering to the elderly. There is also the National Programme for Health Care of Elderly which speaks, among other things, about capacity-building for medical and paramedical professionals and caregivers. This needs to be reviewed and strengthened at a time when the government and private institutions are looking at plugging the gaps in the creaky health care system.
Elderly women need easy access to home health care, access to essentials preferably through home delivery, and above all compassion and care from their families and State systems. This would be a good time to engage stakeholders, including elderly women themselves, to frame more equitable policies for a more active, empowered and productive old age.
lalita.panicker@hindustantimes.com
The views expressed are personal
Close