Green hydrogen mission: A boost for clean energy
Madhav Pai and Pawan Mulukutla
Jan 10, 2023 07:52 PM IST
The mission is also a defining moment for our global significance — with India now efficiently positioning itself among 30 leading countries that have declared road maps to shift from fossil fuel-based production to cleaner hydrogen and scale its applications
The announcement of the National Green Hydrogen Mission last week is poised to be a watershed moment for India's decarbonisation journey and reinforce the commitment to decarbonising its industry, energy and heavy mobility sectors. Besides the pursuit to decarbonise the hard-to-abate industrial sectors, India also aims to reduce its reliance on imported fossil fuels, create employment opportunities along the hydrogen value chain, and further develop the nation's technology and innovation ecosystem through the mission.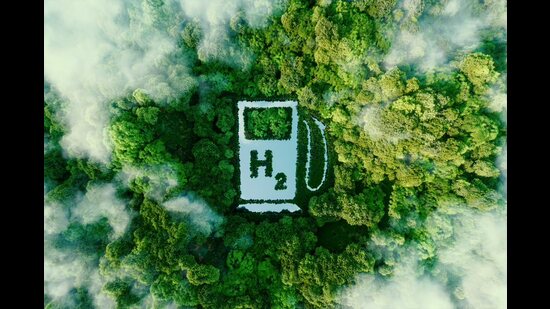 India is set to be the world's third-largest energy consumer by 2030. Several industries, including the transportation and manufacturing sectors (especially fertilisers, steel and refining), rely heavily on imported fossil fuels and their derivatives for production. With the domestic production of crude and natural gas (highly carbon-intensive) failing to meet the growing demand, India imports over 40% of its primary energy requirements, amounting to $90 billion annually. In the business as usual scenario, India's net dependency on imported oil will likely increase from 75% to 90% by 2040. This is where the mission can make a difference.
India has set an ambitious target of producing five million metric tonnes (MMT) of green hydrogen per annum by 2030 — among the highest globally — with the potential to scale up further to 10 MMT. A comprehensive road map has been laid out, focusing on infrastructure development in industrial clusters, co-located production and consumption hubs, demand-creation measures to kickstart consumption, and supporting pilot projects for new applications such as green steel, shipping, transport, railways and ports.
The mission is also a defining moment for our global significance — with India now efficiently positioning itself among 30 leading countries that have declared road maps to shift from fossil fuel-based production to cleaner hydrogen and scale its applications. It will also be critical in establishing India as a global hub for producing, consuming, and exporting green hydrogen.
Green hydrogen has immense potential to fulfil India's ambition to meet 50% of its energy needs through renewable energy, and cut down projected carbon emissions by a billion tonnes by 2030. One of the mission's key objectives includes the abatement of nearly 50 MMT of annual greenhouse gas emissions. With its potential usage as a transportation fuel, green hydrogen can reduce transport sector emissions — one of the fastest-growing sources of greenhouse gas emissions.
India enjoys a unique advantage for green hydrogen production with abundant renewable resources. We have one of the biggest renewable markets in the world, which must be leveraged to produce green hydrogen at scale. Of course, there are significant challenges. Green hydrogen is not yet cost-competitive. Renewable energy accounts for approximately 60–75% of the total cost of green hydrogen production. With the cost of renewable energy generation falling, the production of green hydrogen can become cost-competitive in the future. However, the catch is to produce hydrogen close to the point of consumption. Transportation of hydrogen is complex due to its corrosiveness and low bulk density (requiring high pressurisation), which increases costs significantly. Therefore, to prevent a dramatic rise in its cost due to transportation and storage, co-location of production and consumption units of green hydrogen is necessary, facilitated through a robust grid transmission for accessing renewable energy which can be located off-site.
A robust regulatory framework, safety regulations, and pertinent quality and performance requirements will be critical to the success of this nascent technology. These measures will help stabilise the private sector's long-term investment outlook and technological advancements. The need of the hour is to ensure that the mission serves as an enabler for coordinating multiple initiatives for standards creation and regulations, in line with business requirements for emerging technologies, to further embolden India's global position in the green hydrogen value chain.
Madhav Pai is interim CEO, WRI India and executive director, WRI India Ross Center for Sustainable Cities; Pawan Mulukutla is director, Integrated Transport, Electric Mobility and Hydrogen, WRI India. The views expressed are personal
Enjoy unlimited digital access with HT Premium
Subscribe Now to continue reading