Feeding infants well starts a virtuous circle
Dec 30, 2016 06:20 PM IST
India has higher expected growth rates, meaning better-nourished children will grow into even more productive adults. Copenhagen Consensus research demonstrates that for India, the returns to early nutrition climb to Rs 93 of benefits for every rupee spent
The first-ever national survey to measure child nutrition levels is an excellent and timely endeavour that will help India to tackle one of its biggest challenges to development. The survey by UNICEF and the government will quantify micronutrient deficiencies as well as worm infestation.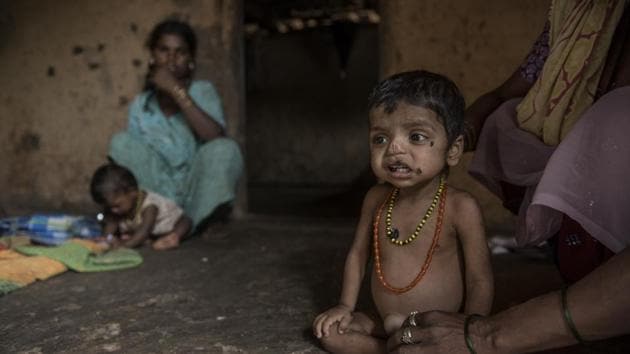 Both children and adults need a high quality diet, but feeding young children well makes a big difference for their lives. The first 1,000 days of a child's life – from conception to the age of two – are vital for proper development.
Stay tuned with breaking news on HT Channel on Facebook.
Join Now
Read: From malnutrition to illiteracy: Five things that should worry India in 2017
India has one of the world's highest child malnutrition rates, but it has been declining rapidly during the past decade. In 2006, 48% of children under 5 years old were stunted, or smaller than the expected height for their age. In 2014, the rate had dropped to 39%, but that still means more than 47 million children are stunted today.
Malnourishment not only has physical effects but also leads to delays in developing cognitive skills. Stunted children do less well at school and this has knock-on consequences for the rest of their lives.
This is why research for the Copenhagen Consensus Center shows that spending money improving nutrition is a phenomenal investment around the globe, because inexpensive, early nutrition can give substantial, life-long benefits.
Read: UP's Iron-clad strategy to fight malnutrition
This is perhaps best illustrated by a long-term study in Guatemala. From 1969 until 1977, preschool-aged children in two rural villages were given a high-protein energy drink with multiple micronutrients. In two other, nearby rural villages, the children were given a drink with no protein and one-third of the calories but similar amounts of micronutrients.
This landmark study allowed researchers to follow up in 2011 on the two groups of children, now grown-up, to clearly see the immense differences that early nutrition had made.
They found that the well-nourished children were much less likely to be stunted by age three. They stayed in school longer and developed better cognitive skills. As adults, they were more likely to be employed and have fewer children. Perhaps most importantly, the children who avoided being stunted because of better early childhood nutrition now have an astounding 66% higher household consumption, an impressive improvement in quality of life from a simple intervention in childhood.
Read: Indians eat healthier than Americans, but spend less on healthcare
Globally, such nutritional spending makes a lot of sense. Providing nutritional supplements for one child throughout its first two years through improving the balance of the diet and deworming costs approximately 6500 rupees ($96). However, the slightly lower risk of stunting translates into a higher income every year throughout working life.
Measuring the total income as if it was a lump-sum occurring today shows a total benefit of 3 lakh rupees ($4365). Each rupee spent on early childhood nutrition will thus globally achieve about 45 rupees worth of good over a wide range of low- and middle-income countries. That makes it a truly impressive use of money.
However, the case is even better in India. Because India has higher expected growth rates, meaning better-nourished children will grow into even more productive adults. Copenhagen Consensus research demonstrates that for India, the returns to early nutrition climb to 93 rupees of benefits for every rupee spent.
Moreover, feeding infants well also commences a virtuous circle, with increasing benefits for succeeding generations.
This year, Copenhagen Consensus conducted an in-depth project looking at priorities for Bangladesh, examining 76 development opportunities. A panel of top experts, including a Nobel laureate, concluded that focusing on nutrition should be a national priority. Bangladesh has had considerable success fighting hunger, but there is more work to do. Stunting affects around 6 million Bangladeshi children under age five, decreasing cognitive development, and leading to worse health outcomes, school performance, and productivity. Copenhagen Consensus research examined programs to fight malnutrition by delivering nutrients and micronutrients to young children and pregnant mothers.
The research estimated that if these supplements were delivered to everyone, stunting would fall from 36 percent to 29 percent—averting stunting in roughly 450,000 children.
Rudaba Khondker, Country Director of Global Alliance for Improved Nutrition (GAIN) in Bangladesh, said that the analysis "helped focus the Second National Plan of Action for Nutrition on the best ways forward. This input means that each dollar of the US$1.6 billion which will be spent in nutrition over the next ten years, will provide much more benefits for Bangladesh's most deprived population."
In India, the national survey will tell us more about ways to improve nutrition. So too will a new project: Copenhagen Consensus is partnering with The Tata Trusts to identify the smartest solutions for two Indian states across a wide range of policy areas, including not just nutrition but also education, health and governance, trade, infrastructure development, energy, and more.
The project will use the best academic research, employing cost-benefit analysis together with sector expert input, broad stakeholder engagement, and extensive policy outreach to evaluate and prioritize the smartest interventions. Based on extensive evidence, the prioritized policy solutions will have the potential to directly and significantly impact on decision-making within government and beyond.
India faces many challenges, and feeding a growing population adequately is certainly one of them. The good news is that the proportion of people suffering chronic hunger between 1990 and 2015 has dropped from 24% to 15%. The bad news is that still leaves almost 200 million Indians who go to bed hungry every night.
There are compelling reasons to continue improving child nutrition, and India's national survey is an excellent step forward.
Bjørn Lomborg is a Danish author and adjunct professor at the Copenhagen Business School as well as President of the Copenhagen Consensus Center
The views expressed are personal