Like netas, some players have also abused fame
Jan 22, 2023 08:42 PM IST
It is awful if the government and society cannot protect the players' interests, but it is an outrage if the star players abuse their fame
Janardan Gyanoba Navle made history as the first Indian cricketer to face a ball in a Test match against England at Lord's Cricket Ground, considered the "Mecca" of cricket. He played 65 first-class matches and two Tests. Navle, however, retired from cricket in 1950 without a job or much savings. He died in poverty in Pune on September 7, 1979, with some reports claiming he was spotted begging on the Mumbai-Pune highway.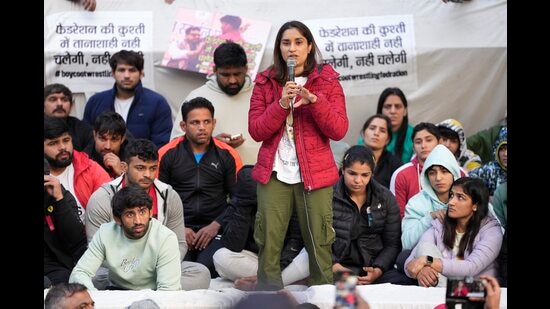 Sadly, he is not alone. Before Kerry Packer revolutionised cricket, most players faced financial insecurity after retiring. Packer's impact increased players' earnings. Even the elite today want their children to become professional cricketers to earn a name and fame. It is a separate issue that, except for certain sports, status and money remain elusive. If this were not the case, national and international level wrestlers would not have had to sit on a dharna for two days at Jantar Mantar in Delhi.
Last week, a statement by Olympian Vinesh Phogat went viral. She alleged that, in addition to other sorts of wrongdoing, the president of the Wrestling Federation of India (WFI) and several coaches have been sexually harassing female wrestlers. Phogat is not an ordinary woman. She is the one who restored the country's glory by winning three consecutive gold medals at the Commonwealth Games. Sakshi Malik and Bajrang Punia, two other medalists, also supported her.
The accused is Brij Bhushan Sharan Singh. He was elected to the Lok Sabha on a Bharatiya Janata Party (BJP) ticket. He has won elections six times. These charges against the BJP Member of Parliament (MP) were bound to create a stir, and they did. At the same time, it was revealed that he had been imprisoned under the Terrorist and Disruptive Activities (Prevention) Act in the 1990s. He has even publicly slapped a wrestler on stage. The MP wasted no time in rejecting Phogat's charges. "I'll talk to the players," he replied. "I am prepared to answer any question. There was no sexual harassment. I'm willing to hang myself if even one athlete comes forward and proves it." Singh later stated that he is not at the mercy of anyone. A tsunami will erupt if I open my mouth, he said. On the other side, the wrestlers received a tsunami of support.
Meanwhile, government representatives, led by Union sports minister Anurag Thakur, worked tirelessly to find a solution. Thakur had marathon sessions with officials, players, and concerned citizens on multiple occasions. Finally, the wrestlers agreed on a proposal to form an oversight committee. After investigating all complaints of physical abuse, along with financial and administrative anomalies, this committee will present its report in four weeks. This committee will also be in charge of the administration of WFI during this time. Singh would not be allowed to interfere.
The Indian Olympic Association has also taken note of the situation. The uproar has subsided for the time being, but the situation is complicated. The Paris Olympics is only a year and a half away. Our wrestlers are potential medallists in this event. The wrestlers have won seven Olympic medals for their country. Wrestling has won the second-most Olympic medals in our country's 75-year history after hockey. Needless to say, every single second of any international-level player is critical. How will this loss be compensated? With these circumstances, how can India become a sporting superpower?
The world of sports received disappointing news at the start of this year. On New Year's Day, police filed charges of sexual harassment and intimidation against Haryana sports minister and former Indian hockey captain Sandeep Singh following a complaint by a junior coach. He subsequently resigned. This incident highlights that, like politicians and bureaucrats, sports figures are also capable of committing such exploitation.
You may recall that Olympian weightlifter Karnam Malleswari expressed similar concerns. Coach Ramesh Malhotra was suspended as a result, and his name was also removed from the proposed list for the Dronacharya Award. I'd also like to bring your attention to another dismal fact. Politicians lead 47% of the country's 56 recognised sports federations, although they cannot be blamed for everything. Sandeep Singh and Ramesh Malhotra are among those on the list. Unfortunately, some people went even further. Sushil Kumar, a two-time Olympic medallist, is currently behind bars for murder. Navjot Singh Sidhu, cricketer, politician, comedian, and almost everything else is serving a term for culpable homicide not amounting to murder.
It is awful if the government and society cannot protect the players' interests, but it is an outrage if the star players abuse their fame.
Shashi Shekhar is editor-in-chief, HindustanThe views expressed are personal
Enjoy unlimited digital access with HT Premium
Subscribe Now to continue reading