Congress's idea of fielding more women candidates must not fade away
Mar 15, 2022 01:42 PM IST
For nearly all political parties in India, women's role in politics seems to begin and end as voters. In contrast to this, the Congress' decision to give 40% tickets to women in UP was a refreshing change. This trend must continue beyond the party and these elections
The just-concluded assembly elections in five states (Uttar Pradesh, Punjab, Uttarakhand, Goa and Manipur) will be remembered for several significant shifts in India's politics. But as the dust settles, we risk forgetting one of the most critical initiatives ever taken by a political party in India: The Congress' decision to give 40% of its tickets to women in Uttar Pradesh (UP). If the move fizzles out from public memory, it would be a big loss for the cause of gender diversity in Indian politics.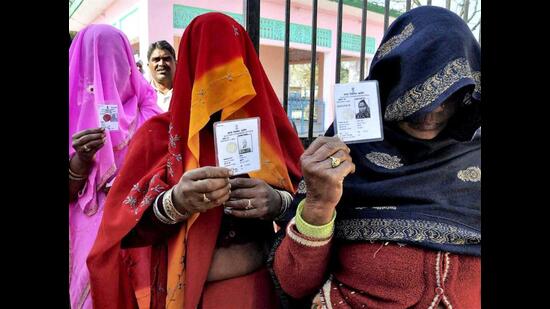 It was nobody's guess right from the beginning that the Congress' initiative was unlikely to boost the number of women in UP's new assembly. But regardless of electoral outcomes the decision remains a laudable one. Given the Congress' shrinking relevance in India's politics, it is highly likely that few will be encouraged to follow in its footsteps. It won't be surprising if the party itself abandons this policy going forward. But women's representation is a matter of equal rights, not a tool to be used instrumentally only for electoral gains.
The discussion around women's dismal representation in India's legislatures is woefully inadequate, and rarely goes beyond the women's reservation bill that most political parties swear by and commit to in their manifestoes. Yet, the bill has been stuck in limbo for over two decades. The impasse seems to have been normalised to such an extent that all the conversation around it - if any - is repetitive, and lacks imagination. It then falls on the political parties to show their mythical commitment by fielding enough women on their own. The Congress did that in UP.
In India, the singular focus on the bill as a panacea means we have paid little attention to the fact that quotas can take many forms, and they can include voluntary quotas adopted by political parties. Well-designed quotas continue to make a critical difference to women's representation in politics globally, research by the Inter-Parliamentary Union (IPU) has shown year after year. The most recent IPU report on women in parliaments found that among the countries that held parliamentary elections in 2021, 30 had some form of quota system in place. But while countries with legislated quotas elected 31.8% women on average, the ones where political parties adopted voluntary quotas elected 32% women.
Iceland, Norway, Netherlands - countries known for gender equality, and with high shares of women in their parliaments - all have ensured high representation because political parties have internal policies to ensure representation of women at the candidate level, not because the law reserves seats for women.
In India, on the other hand, male-dominated political parties continue to be the biggest roadblocks for women to enter and rise in politics. And nearly all of them have abdicated responsibility to address this striking gap in our electoral democracy. For nearly all political parties, women's role in politics seems to begin and end as voters. Election after election, the focus on the "woman vote" grows. In the 2022 polls, parties in the fray went all out promising cash transfers to women in addition to cooking gas cylinders, two-wheelers, and free travel in public transport.
It is in this context that the Congress' decision (despite the party's embarrassing failure) was a refreshing change in the usual fatigued discourse on women's representation in India's politics. The Biju Janata Dal and the Trinamool Congress had tried - more successfully - a similar policy in the Lok Sabha election of 2019, but neither party stayed committed to the policy when they contested subsequent assembly elections.
Seventy five women have been elected as MLAs in the 690 seats across the five states that just held elections. Together they make up a cumulative share of 10.9%, ranging from 7.5% in Goa to 11.4% in both UP and Uttarakhand. These are shameful and troubling numbers by any standard. But even more shameful are the shares of women among candidates. Even the Congress' 40% experiment was limited to UP: It showed no interest in doing the same in the other four states.
All other political parties were equally disappointing. In UP, the Bharatiya Janata Party and Samajwadi Party gave tickets to only 12% women. In Uttarakhand, there were 11% women among the BJP candidates, and 7% among Congress contestants. In Punjab, the Aam Aadmi Party gave 10% tickets to women, the Congress 9% and the BJP 8%, in Manipur the Congress and the National People's Party put forth 8% women among candidates, and the BJP only 5%. Goa was similar to Manipur with major parties fielding less than 10% women.
All told, the share of women candidates across all five states improved by 1.8 percentage points this year over 2017. But this tiny bump pushed up the share of women elected by 2.8 percentage points. If such a small expansion of space for women in the electoral contest can make a difference, imagine how different our elections and politics would look if all parties, including the Congress, made it a policy to give at least 40% tickets to women in all elections going forth.
Akshi Chawla is a writer and researcher tracking journeys of women in politics, and most recently worked on the IPU's annual flagship report on women's representation in Parliaments around the world.
The views expressed are personal