The Taste with Vir Sanghvi: Gurgaon is a gourmet destination?
Published on Jul 25, 2022 08:40 AM IST
Encouraged by the pride Gurgaon foodies take in their city, I decided to try as many places as I could. I moved to a Gurgaon hotel for three days and went from restaurant to restaurant.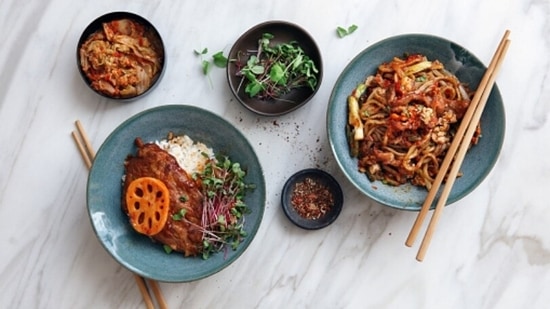 As you probably know if you live in Mumbai, some of the city's most exciting restaurants are now in the suburbs. South Mumbai has become a bit of a dead loss gastronomic destination, so when a good restaurant opens there (Soufflé, recently) there is much to cheer about.
For years I have been assured by residents of Gurgaon that the same is true of their city. When I ask for names of restaurants I can write about, the same places are mentioned: 361, Comorin and now Bhawan.
I am told also that the really exciting developments are happening in the East Asian food sector. There are great Thai restaurants, I am assured; amazing Japanese places and authentic Korean food! After all, many Far East Asian companies are headquartered in Gurgaon. So, the restaurants have to be good, right?
ALSO READ: The Taste With Vir: Travelling to Europe? Keep an eye on your luggage
Well, yes and no. Many Indians also live in Gurgaon. But that does not mean that all the Indian restaurants are good. A large Korean community may ensure that the flavour profiles of the local restaurants are geared towards Koreans (rather than say, Punjabis), but it does not automatically follow that the food will also be very good. There are good Korean restaurants in Seoul, for instance. And there are bad ones too. Every restaurant in Bangkok is not wonderful only because Thais eat there.
Encouraged by the pride Gurgaon foodies take in their city, I decided to try as many places as I could. I moved to a Gurgaon hotel for three days and went from restaurant to restaurant.
The adventure began well. My first stop was a Korean restaurant called Hahn's Kitchen. In my experience, people don't recognise me at Korean and Japanese restaurants so I booked in my own name.
I was relieved to find that I was right. When I entered the restaurant and said I had a booking, the man at the door could not find it. I looked at his reservation book and showed him my name.
"Ah yes, Mr. Juggi", he said, and led me to my table. My wife and I ordered three classic Korean dishes. Bulgogi (but of buffalo not beef), bibimbap and Korean Fried Chicken. When I tried to order more, the server stopped me. "That's too much", she said. "Our portions are very large."
And they were; we couldn't finish the three dishes. The bulgogi suffered from being made from buffalo, but was delicious anyway. The bibimbap with its fried egg on top of the rice was satisfying. And the Fried Chicken lived up to its global reputation — it is now one of the world's most popular dishes.
It was downhill from there on, alas. Some foodies had recommended a Japanese restaurant in a mall. It turned out to be an izakaya run by a Japanese conglomerate. Though none of the chefs behind the counter was Japanese and the surly Indian hostesses wore (what I think were meant to be) kimonos like they were bathrobes, I thought the Japanese ownership would guarantee a good meal.
In fact, the food was terrible. An izakaya in Japan is a cross between a pub and an inn. You order beer and snacks. Often izakayas specialise in yakitori, which in India just means 'satay with sweet sauce' but in Japan, is a highly advanced dish that uses every part of the chicken including the bits you and I may not be keen on.
Over here, they served a pork yakitori which was chewy as hell which led me to wonder: If an izakaya can't do yakitori well, then what about the rest of the food?
It was a valid question. They did sushi rolls, a mistake for an izakaya and they were terrible: A takeaway place on West Delhi would have done a better job. The gyoza were fused to the pan and the karaage (fried chicken) look as though it had been recovered from a bomb site; it was that overcooked. I ordered a prawn dish but it never arrived because the server got the order wrong.
Putting our faith in conglomerates may be a mistake. I want to Krua Thai on the recommendation of yet another foodie, but also because its ultimate owner is Thailand's giant CP group. I should have known that something was wrong because the only other guests were, for the most part, men sitting alone, their computers plugged in, who did not seem to be there for the food. The service though was outstanding and the manager, Ranjan Sharma, was excellent.
Eventually one of the men working on a computer got up to visit the kitchen. I was informed, that though he was in civilian clothes, he was actually the chef.
I do not know the chef's background but I think it is safe to say that he does not know how to cook Thai food. Every dish was not just revolting: It was not even Thai. A krapow had a Chicken manchurian-type cornflour thickened gravy and the massaman curry tasted so wrong that my wife disputed that it was even meant to be a massaman curry. The grilled pork was dessert-level sweet.
When I posted photos of the meal on Instagram, I was DMed by the original team at the restaurant who said they had left because the management did not care about the place. I have no idea what the full story is, but I don't think this restaurant can last with this quality of food.
When I posted that bad experience on Instagram, I was told 'go to Ebisu'. So, I went. The kitchen may have been capable of producing a good meal, but on the night in question, the chefs cooked like they were actually watching a Hindi movie on TV while only occasionally looking at the food they were meant to be cooking.
They did nigiri sushi which is brave if you don't know how to make the rice pellet or the rice itself. The pellets were dry and tasteless. The frying was even worse. The karaage and the tempura had been cooked in oil that was not hot enough. Nobody in the kitchen seemed to notice or care.
After I posted my comments on Instagram I got a direct message from the Ebisu management. "Yes, it is true that our expat Japanese chef recently left and we are experiencing some turbulence in the kitchen," they said. They were in the process of finding a new chef and were confident that the kitchen would soon be back on track.
Restaurateurs are rarely honest about such things so I was very impressed. I will go back once things are in order. In the meantime, it sounded like the existing cooks had been told off. So, if you go, you may have a much better experience.
Finally, I found a decent enough Japanese restaurant. Manami, in yet another mall, had a kitchen that knew what it was doing. For purposes of comparison, I ordered the same things. But there the gyoza was perfect. The tempura had been fried at the right temperature and the karaage was crisp. There are many complicated Japanese dishes, but the ones I was ordering were pretty basic so it was a relief to find a kitchen that cared about quality.
Most of these restaurants did not deliver joyful experiences. I was reminded of my student days in England when Indians who missed our cuisine so badly ate at curry houses hoping for a hit of masala. The food at most of those places was terrible, but at least it was recognisably South Asian, full of spices and mirchi. It is, I guess, the same sort of emotion that motivates junior- and middle-level employees of Japanese multinationals, stuck so far away from home in a strange country. They long for a whiff of dashi, and the taste of miso.
There were two good experiences. Saga is a plush upmarket restaurant where Atul Kochhar does the food. The staff are smart (I booked under a false name but they recognised me even though I was wearing a mask when I entered) and the food was good. But then I had been there before so I was not surprised.
And I enjoyed OMO Café, where the chef is Vanshika Bhatia. It took them half an hour to work out who I was (I had not booked in my own name) and by then it was too late to do much about the food. It is a vegetarian restaurant in a not particularly salubrious location but the food is good: A dish of King oyster mushroom was an instant classic, the pastas have a little something extra, the thin crust pizzas are tasty and the cheesecake is excellent.
So here is my conclusion: Gurgaon is not a gourmet destination despite the hype. Even the Japanese food in the Mumbai suburbs, where restaurants like Izumi and Mizu beat the hell out of anything in Gurgaon, is much better.
But some of the restaurateurs seem sincere. So maybe be things will get better.
For more stories by Vir Sanghvi read here
Topics
Personalise your news feed. Follow trending topics