After flying laps in testing, Spaniard Alonso sees no end to Mercedes' domination
Feb 24, 2016 04:03 PM IST
McLaren driver says that his target of achieving one of the best chasis in Formula One could be achieved by the start of European races
Fernando Alonso believes his McLaren team could have the best chassis in Formula One before long this year but the Spaniard also sees no end to champions Mercedes' domination after pounding out the laps in testing.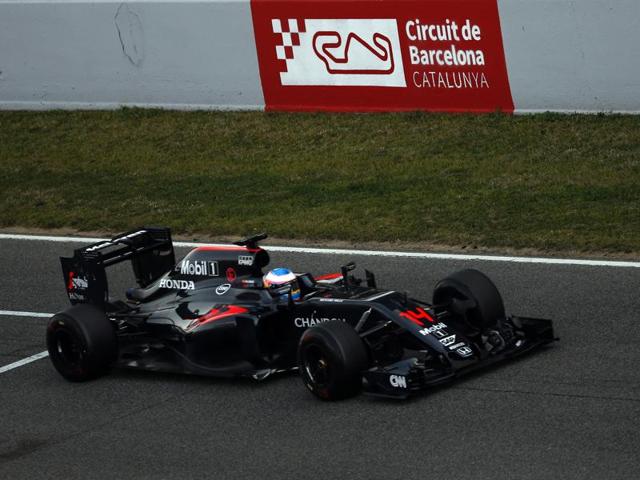 "I think the target to have the best chassis is reachable, it is something very possible -- maybe by the European races," he told reporters after his first full day in the new car at Barcelona's Circuit de Catalunya.
The season, which features a record 21 races, starts in Australia on March 20 and the first European round is in Spain on May 15.
McLaren had a miserable season last year, finishing ninth of 10 teams and struggling with an unreliable and under-powered Honda engine that cancelled out what was undoubtedly a competitive chassis.
They have not won a race since 2012.
Mercedes, winners of 32 of the last 38 races, have done more laps than anyone in testing, with triple champion Lewis Hamilton and Nico Rosberg both completing nearly 2 1/2 race distances without a hitch over the first two days.
"I think the Mercedes domination did not finish," said Alonso, a double world champion with Renault who returned to McLaren last season. "I think they are very, very strong.
"They are doing some interesting days ... with that amount of laps it means you have very clear things so when they put the potential as well, they are stronger than ever probably -- even more than the last two years.
"So I think (for McLaren) to win is not an easy task."
Alonso's initial 119 laps on Wednesday was more than he managed in all of 2015 pre-season testing, when he had endless problems.
He said fixing reliability had been the first priority of the winter.
"I am very proud of the team, of what we achieved in the last couple of months ... I enjoyed today but I think there is performance we need to unlock in the car," he said.