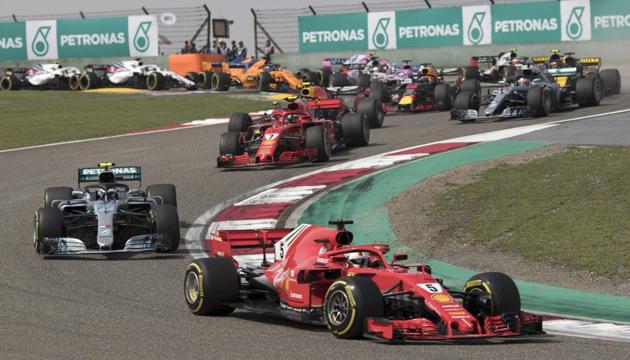 Ferrari no longer the underdog after outqualifying Mercedes in Shanghai
Ferrari outclassed Mercedes in qualifying in Shanghai, a track that has suited Lewis Hamilton's team and it is an indication of where the reigning Constructor's champion like to be.
Hindustan Times, New Delhi | By
Raja Sen
UPDATED ON APR 16, 2018 10:54 PM IST
The first time I watched a race in the flesh — from the grandstands, gulping in all that deafening, glorious noise — it was at Shanghai for the Chinese Grand Prix a dozen years ago. Michael Schumacher announced his retirement and I'd leapt into action, insisting on watching him race at least once. That morning looked hopeless as he began in sixth, but down came the downpour, and the German icon — nicknamed "rainmaster" for his superhuman wet-weather ability — valiantly slaughtered his competition to take the win, following many an impossible overtake. It was his last win.
This Sunday, Daniel Ricciardo similarly started his Red Bull in sixth place and, through swashbuckling lunges and flawless pitlane-poker, not to mention unforeseeable good fortune, took the win. The Australian driver has his own tradition of pouring champagne down his shoe and drinking it, but before glugging, he stood on the top step, giggling helplessly, as if third-place driver Kimi Raikkonen, a man of infamously few words, had just told him a naughty joke. This is unlikely. This was laughter of sheer disbelief, for while Ricciardo indeed drove without fault and finished imperiously ahead, the race was never in his hands.
The Aston Martin Red Bull Racing team have many a reason to celebrate, from Ricciardo's drive — that elegant, muscular overtake on Lewis Hamilton will be one of the year's top overtakes, mark my words — to the way the crew doubled up on their pitstops, twice, with unerring precision. Max had an absurdly off day, nearly hitting Lewis Hamilton and ruining Sebastian Vettel's race, but even his screwy moments make for great television. Ten second penalties appear of little consequence when talking of Formula One's current cowboy.
Despite all this, the real headline from the weekend belongs to Ferrari. The Italian outfit had a horrid Sunday: first, Raikkonen was squeezed out by teammate Vettel far too aggressively at the start, then Vettel was bumped off by an overeager Verstappen, and, finally, Raikkonen proved unable to pass Valtteri Bottas at the end. Not a grand day to wear scarlet, no.
Yet the big takeaway is how Ferrari outqualified Mercedes in Shanghai, a track traditionally suited to the silver cars, by more than half a second. This is enormous, and while Sunday's race might have provided breathless and unpredictable spectacle, it was Saturday's qualifying that made it apparent Mercedes is not where it would like to be. Mercedes are winless in three races, after having the run of the last few seasons. The men in red have a car that appears quicker in a straight line, is visibly better balanced, and, as is now clear, can extract a time from their softest-compound tyres that can, at least on occasion, make 'party mode' — the vaunted Mercedes setting for setting blisteringly quick Qualifying laps — look like a party that serves Virgin Marys.
Formula One development cycles mean a team with a sizeable advantage usually maintains it for a few years. Ferrari had to contend first with the Red Bull years and then the Mercedes stretch. At long last, the prancing horses are underdogs no more.
DISCLAIMER: The writer is a film critic who has been writing on Formula One since 2004. He shares his birthday with Michael Schumacher. Views expressed are personal.
Close