Hero's J-Rod wins India Baja, Abdul Wahid Tanveer of TVS bags Merzouga ticket
Updated on Apr 30, 2017 05:07 PM IST
Joaquim Rodrigues of Hero Motosport won with ease in the moto segment of India Baja, beating TVS riders KP Aravind and Abdul Wahid Tanveer, who qualified for Merzouga Rally in Morocco next month, finishing which he would qualify for next year's Dakar Rally. In Xtreme (four-wheelers), Gaurav Chiripal pipped Raj Singh Rathore to win in Jaisalmer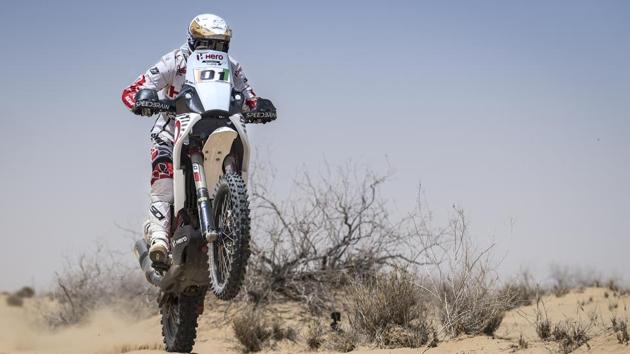 Two riders -- both of them lead competitors for their respective teams -- had contrasting takes on their experience at India Baja, the two-day Dakar Challenge rally which concluded on the dunes near Jaisalmer on Sunday. Their words on the Baja and how they tackled the dunes speak volumes about the huge gulf even elite Indian riders have to bridge to get to the level of Dakar exponents -- if at all we needed further evidence for the fact glaring at us from the timing sheets, that is.
For the record, Joaquim "J-Rod" Rodrigues of Hero Motosport, won the moto segment of the India Baja, beating KP Aravind of TVS Racing, while Abdul Wahid Tanveer finished third.
Tanveer and TVS, however, have a lot to cheer about and look forward to as he has won the big prize of Baja, and is on his way to Dakar, albeit after a "big test in Morocco". Tanveer, who finished third, has qualified for the Merzouga Rally in Morocco next month, and if he manages to finish that event, he would earn a ticket for the Dakar Rally next year.
Winner J-Rod and second-placed Aravind have already participated in the Dakar and were not eligible for the free Dakar entry from India Baja.
'Bumpy vs Smooth'
J-Rod from Portugal and Aravind, who were the Hero and TVS' lead riders in the rally, showcased their best in the two-day event but the Indian's best was a good 20 minutes behind. Rodrigues had virtually no challenge at all, especially after TVS' Adrien Metge of France pulled out due to mechanical failure on Day 1.
Metge might have given J-Rod a fight. Then again, the Portuguese rider led the rally right from the opening stage, a testament to his quality and to the ease at which he mastered the terrain and dreary weather conditions. Coming from a pleasant spring weather in Europe to a furnace-like Rajasthan didn't affect J-Rod while the terrain was sheer fun, he says.
"The dunes here were challenging but hardly testing, it was smooth sailing for me," says Rodrigues, who had finished a creditable 15th for Hero in the Dakar Rally in January. "The rally was shorter than the ones I am used to and way shorter than the Dakar. The trails and dunes here were a little challenging but was smooth enough for me to power through with ease. It was good fun being out here and racing in India has been a novel experience."
Aravind, on the other hand, found the trail a bit bumpy.
"The ride has been fine but the dunes and trails were testing," says Aravind. "Of course, I was taking it a little easy as I have just recovered from a injury. I pushed as hard as possible though."
J-Rod's smooth and fun outing to Aravind's bumpy ride -- the difference might have a little to do with the bike set-up and more with the the skill level.
Indian potential
Having said that, Aravind, Tanveer and R Nataraj of TVS, who finished fourth, and India's Dakar pioneer, CS Santosh of Hero Motosport, who missed Baja due to an injury, are very skilled and have potential to compete with the best in the world. J-Rod acknowledges and praised their quality. Just that, there has not been a proper channel for Indian riders to come up in a systematic way.
Baja, if it becomes a regular in the Dakar Challenge series, could change that in the coming years.
J-Rod feels that the India Baja and the Dakar Challenge event coming to India is a very good sign for Indian riders and it is a matter of time before many world-class competitors come out. "But it won't happen overnight," adds Rodrigues. "At the event many riders interacted with me and now they realise the world out there and the potential. Things can only grow from here for India."
Meanwhile, it was quite the opposite in the Xtreme (four-wheeler) segment of India Baja as far as the competition is concerned. In a fiercely contested Day 1, Gaurav Chiripal (co-driver Karan Arya) edged out overnight leader Raj Singh Rathore (Jeevarathinam J) to win the category.
Close Story
Personalise your news feed. Follow trending topics