Indian men's hockey team lose bronze play-off to England at 2018 Commonwealth Games
England avenged their loss to Indian men's hockey team in the group stage with Sam Ward (7th minute, 43rd minute) striking twice for the winners while Varun Kumar (27th) was the goal scorer for India in the bronze medal play-off at the 2018 Commonwealth Games (CWG 2018) in Gold Coast.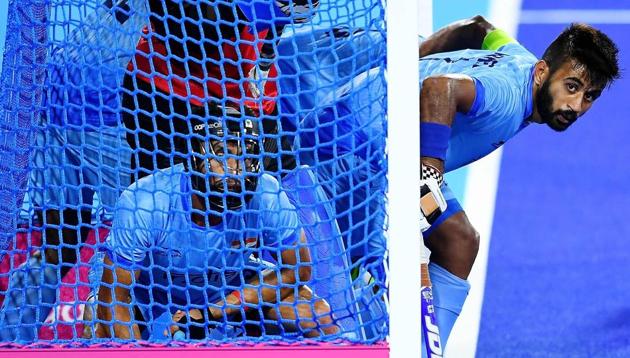 Updated on Apr 14, 2018 09:06 PM IST
Press Trust of India, Gold Coast |
Press Trust of India
Indian men's hockey team finished a disappointing fourth at the 2018 Commonwealth Games after struggling to breach a stout England defence to lose the bronze medal match 1-2 in Gold Coast on Saturday. (IND vs ENG highlights)
England avenged their 3-4 loss to India in the group stage as Sam Ward (7th minute, 43rd minute) struck twice for the winners while Varun Kumar (27th) was the lone goal scorer for India. (CWG live updates)
India had won silver medals in the previous two editions, ending runners-up to Australia on both occasion.
India captain Manpreet Singh was naturally very upset with the outcome.
READ MORE | Commonwealth Games 2018 Table Tennis: Manika Batra beats Yu Mengyu to win gold
"We came here for a medal, but we didn't achieve that. We played really bad this tournament and I really don't feel like going anywhere tonight. We are so disappointed, we did not expect this will be the result of this tour," Manpreet said.
"We need to improve on many things, such as taking every chance, because every match we had chances in the first two minutes, but we always missed."
Coach Sjoerd Marijne was also disappointed.
"In our close matches, we've got to take every opportunity and we don't do it. We give it to them too easily and that's been happening the whole tournament. I hope they (Indian players) don't ever want to experience this any more," he said.
READ MORE | Commonwealth Games 2018 Badminton: Ashwini Ponnappa, N Sikki Reddy win bronze
"For me the highlight was the first match against England, the last two minutes and we'd hoped it was also possible now, but that's too bad."
Though India had better ball possession in the initial minutes of the first quarter, England were far more dominating with intense attack.
An Indian infringement gave away the first PC of the match. Though Sam Ward's attempt was blocked by India's first rusher Amit Rohidas, in his second attempt Ward kept it low and found the right corner of the goal taking a 1-0 lead in the 7th minute.
A diving PR Sreejesh could do little to stop the fiercely-struck ball.
READ MORE | Mary Kom Leads India's Golden Run On Day 11 Of Gold Coast Commonwealth Games
With good man-to-man marking by England, making successful forays into the striking circle for the Indian forwards was hard to come by.
After several attempts, India's first breakthrough came in the 26th minute when Mandeep Singh and Lalit Upadhyay worked in tandem. A well-thought through variation between Rohidas and Varun fetched India a much-needed equalizer.
Scores levelled at 1-1, the third quarter was closely fought. While India began on an attacking note with Lalit taking a shot on goal in the 31st minute, Mandeep couldn't find the right deflection to score.
Though India's attack picked up steam, defensive errors on their part gave away two crucial PCs in the 39th and 42nd minute. While Ward's attempt was brilliantly saved by Sreejesh, England relied on their number one drag-flicker yet again in the 43rd minute to take the strike.
READ MORE | 2018 Commonwealth Games: Indian women's hockey team misses out on bronze medal
This time, though first rusher Rohidas successfully blocked the drag-flick, but on rebound Ward used a strong back hand shot to once again find the right corner of the goal that helped England regain the lead.
Down by a goal, India desperately looked for opportunities to score but England's defence was relentless, not wanting to repeat what happened in their previous tie when India scored in the last two minutes of the match.
Forward Akashdeep Singh took an ambitious shot on goal but missed the mark in the 45th minute.
Seconds later, skipper Manpreet attempted a shot but failed to get the goal.
England, meanwhile, won two PCs in the 50th and 54th minute but on both occasions different variations could not help in stretching their lead.
Close Story