Indian Olympic Association plans to bid for 2030 Asian and 2032 Olympic Games
Updated on Jun 02, 2018 09:37 PM IST
The last sporting mega-event that India hosted was the Commonwealth Games in 2010, and now the IOA is planning to bid for the 2030 Asian and 2032 Olympic Games.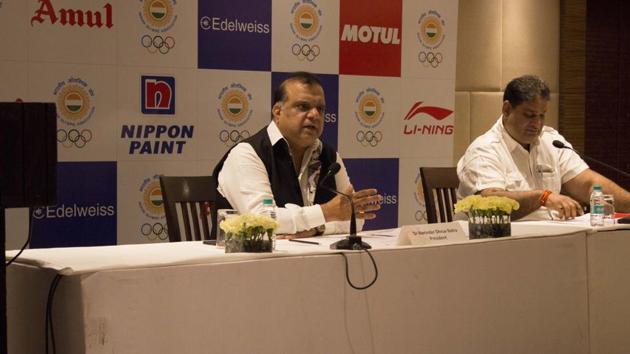 The Indian Olympic Association (IOA) on Saturday announced they will submit an Expression of Interest (EoI) to host four major events, including the 2032 Olympic Games, but president Narinder Batra stressed that India should win more medals in order to be taken seriously in their bid.
The IOA will also submit EoIs for the 2021 International Olympic Committee Congress, 2026 Youth Olympic Games and the 2030 Asian Games. The body also reviewed India's performance at the Gold Coast Commonwealth Games and constituted committees to redress issues plaguing the national sports federations (NSFs).
READ | Indian Weightlifting Federation backs Sanjita Chanu, hits out at timing of suspension
The IOA also announced a list of 2,370 members registered for the Asian Games in Jakarta and Palembang from August 18-September 2. Of these 1,938 are athletes, 399 officials, eight IOA staffers, seven sports ministry officials and 18 Sports Authority of India functionaries. However, this will be pruned down drastically by June 30.
Four years back, India had sent 680 members, including 516 athletes, to the Incheon Asian Games. "We have made some purposeful decisions in this meeting. From EoI for hosting global events to announcing new committees and commissions, it's all formally plotted in our future roadmap," said Batra.
"The list for the Asian Games has also been submitted to the event organisers. We shall shortlist the contingent at the conclusion of the final selections by federations."
READ | FIFA World Cup 2018: Saudi Arabia seek solid showing on world stage
IOA also shared the qualification criteria for various sports disciplines. It also announced the constitution of a sub-committee – the Commonwealth Games Association of India --- within the IOA. "It's imperative for the IOA to make sure there are action points to every review and a thorough process is followed for every global event," said IOA secretary general Rajeev Mehta.
Confusion over National Games dates
Confusion looms over the hosting of the 36th National Games, originally scheduled in Goa in November. The hosts want the Games to be postponed to February 2019 due to delays in building necessary infrastructure. "We want to hold it this year but the hosts now want it scheduled in February 2019," said Batra.
Batra added that a few disciplines could be moved out of Goa as the venues are unlikely to be ready in time. Shooting and cycling (New Delhi), kayaking and canoeing (Kerala) are some of the disciplines that could be moved out.
Chhattisgarh, Uttarakhand and Meghalaya also gave their presentation to host the 37th, 38th and 39th National Games.
Personalise your news feed. Follow trending topics